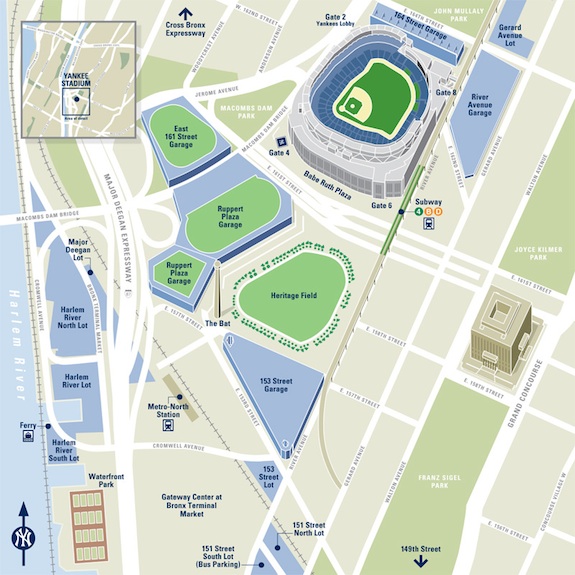 Yankee fans who opt to drive to the Bronx next season may find themselves in for a new round of sticker shock. Due to lower-than-expected revenue and the looming threat of default on a bond payment, Bronx Parking Development, the owner of the stadium parking garages, will raise parking rates as much as 50 percent for the 2011 season. Barring an off-season restructuring of the parking lot bonds, a spot in the lots will now cost at least $35 while the valet option will reach $45.
It never made much sense for the city of New York to surround Yankee Stadium with parking lots. Because of the fast, easy and cheap access provided by the IRT and IND subways, relatively few Yankee fans drive to the games as it is, and the new Metro-North stop made transit access that much easier (and cheaper). Yet, even though on-street parking remained an option and the rates at the Gateway Shopping Mall lots are just $10, the city expanded the number of stadium spots from 6500 to 9127 against the wishes of Bronx politicians and community leaders.
The move has been a debacle from the start. This year, for instance, when the Red Sox were in town, BPD reported just 5600 paid costumers. To add insult to injury, New York selected a company with a history of defaulting on bond payments to build the lots.
Last month, I reported that BPD was facing a revenue crisis. Because the company saw just $4.8 million in revenue — half of its initial estimates — BPD was in danger of defaulting on its payments. Parking rates would inevitably have to increase for 2011, and as Juan Gonzalez reports today, that is exactly what's going to happen. He reports:
Even at [$35 per car], the garages will still fall into a technical default unless two-thirds of bondholders agree to waive some requirements in the original construction bonds.

Bronx Parking barely managed to make a $6.8 million bond payment that was due Oct. 1 and will likely not have enough cash to make its next $6.8 million due in April. Without the waiver, the company warned, it will be forced to charge a minimum of $55 per car next year to avoid a default.

"The truth of the matter is, the whole thing's a mess," said one financial adviser to several bondholders. "If the city doesn't step in, there's no way Bronx Parking can pay back the money it took to build those garages."
This story just gets messier and messier as it progresses. The city's Economic Development Corporation seemingly flushed taxpayer money down the drain in selection Bronx Parking Development as well. They granted the company $237 million in tax-free bonds and gave it $100 million as well. This is money we're likely never to see returned to New York's empty coffers.
For now, the bondholders are struggling to restructure the company's finances in order to avoid a default, but as Gonzalez points out, higher rates will do nothing to stem this financial bleeding. As parking rates go up, more and more fans will choose to reach the stadium via transit.
Bronx officials meanwhile are urging the city to correct this project's deep flaws. Bronx Borough President Ruben Diaz wants the city to sell off the excess garage space for "other development projects" that will better benefit the South Bronx area. Said one Bronx politician to the Daily News, "We don't need a wasteland of empty garages in this borough."