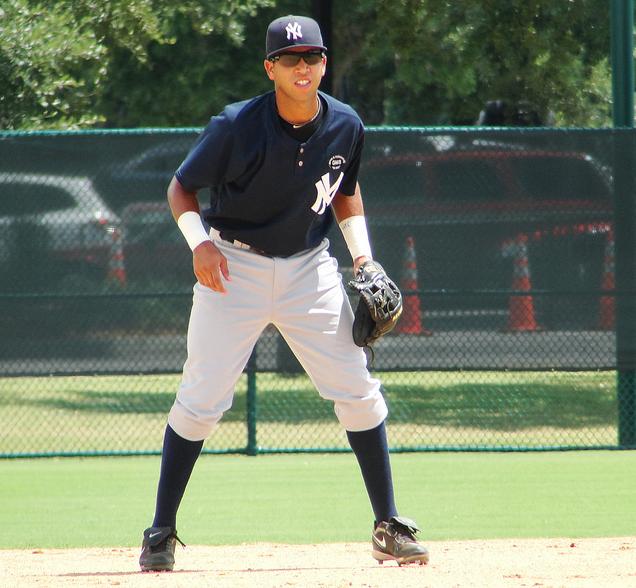 Cito Culver | SS
Background
Born and raised in Rochester, Culver (whose real name is Christopher) starred both on the mound and in the field at Irondequoit High School. He was named All-Monroe County all four years of high school, and was named regional Player of the Year as a senior, when he hit .561. He hit two grands slams in the same game this April, one from each side of the plate. Pretty cool.
The Yankees selected Culver with their first round pick, #32 overall, making him the first position player ever to be drafted out of the Rochester area in the first round. It was perhaps two full rounds earlier than where most pre-draft projections had him going. Culver signed as soon as he graduated high school (less than two weeks after the draft) for a $954,000 bonus, exactly slot money for that pick.
Culver's father, Chris Sr., is currently in prison for arson (and two other charges) after burning the family house down in March 2008. He was sentenced to a maximum of nine years, and was later diagnosed with bipolar disorder. You can read more about that and how it impacted Cito in this great Wayne Coffey piece.
Pro Debut
Culver was assigned to the Yankees' rookie level affiliate in the Gulf Coast League after signing, where he hit .269/.320/.363 with seven doubles and two homers in 179 plate appearances, stealing six bases in nine tries. He was rewarded with a late season promotion to Short Season Staten Island, where he hit just .186/.340/.209 in 54 measly plate appearances. It was a solid test for a kid that didn't turn 18-years-old until late August, and he did well considering his lack of experience against top shelf competition in high school.
Scouting Report
A bonafide long-term shortstop through and through, Culver flashes strong range, hands and instincts in combination with his cannon arm, one that unleashed low-90's fastballs from the mound. His outstanding athletic ability allows him to make up for any mistakes, which should decrease in number with more experience. At 6-foot-0 and 185 lbs., there are no concerns that he will outgrow the position.
Cito's bat lags behind his defense right now, but he's a switch-hitter with good bat speed and enough pop to keep pitchers honest. His plate discipline is strong and improving, so he should take enough walks to post better than average on-base percentages in the future. Culver is quick enough to steal bases but needs to improve his basestealing instincts overall. His game is still rather raw unrefined at this point, which is not uncommon with high school prospects from cold weather states.
Much has been made of Culver's background with regards to his father, but the Yankees watching him plenty and got a good read on his makeup. "I don't know how a kid recovers from what he went through," said area scout Tim Alexander, the man in charge with keeping an eye on Culver. "The field is where he gets away. It's almost where everything makes a lot of sense."
"Nobody I can think of since I've been doing this has been through this kind of adversity, and come through it in such a positive way, with so much character and integrity," said scouting director Damon Oppenheimer. "Minor league baseball is full of failure. You always wonder how people will handle it. Cito has dealt with bigger things than going 0-for-4 already in his life." Obviously the Yankees are impressed by how he's dealt with the adversity.
Here's a video interview with Culver taken after the draft, and here's a clip of him on the mound.
2011 Outlook
Culver can handle the jump into full season ball defensively, but the bat might not be there yet. The Yankees could choose to hold him back in Extended Spring Training to start the season before giving him a return ticket to Staten Island in the second half. That's probably the best route for Culver; he might not be physically ready for the full season grind of the Low-A South Atlantic League. Remember, they held Slade Heathcott back last year, and he was more advanced both physically and baseball-wise than Cito.
My Take
I was surprised by the pick like everyone else, but that doesn't mean it was bad. The Yankees had scouted Culver more than anyone else and certainly liked him, enough that they didn't want to risk having him come off the board between their first and second round picks. There were definitely sexier names left on the board, but a premium up-the-middle athlete is always a good gamble to take. The Yanks clearly went for upside in this draft, and Culver offers plenty. Don't expect a quick mover though, he's a bit of a project and will need at least a year at each level.