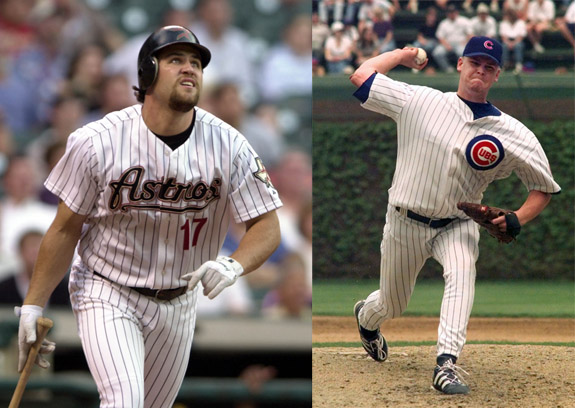 The New York Yankees playoff roster reads as one from a mid-2000s All Star Game would. Somehow, some way, both Kerry Wood and Lance Berkman landed on the 2010 New York Yankees, and while those two players aren't nearly as good as they once were, they've each made their impacts felt during the first two games of the American League Division Series.
For Berkman, coming to the Bronx hasn't been easy. A Texas man with Rice University in his blood, Berkman spent 12 years and played 1592 games for the Astros. At age 34, his health is failing him, but he can still hit right-handers. The Yankees picked him up in a salary dump for Mark Melancon, and while Berkman moved from the bottom of the NL Central to the top of the AL East, he was hesitant about the trade. He didn't want to leave Texas and had no idea what New York held for him.
His regular season stint in New York wasn't a booming success. In limited duty, he hit .255/.358/.349, and he didn't power his one home run over the fence until his 32nd game in pinstripes. Yankee fans grew to despise Berkman when he made some fielding flubs in Tampa Bay and later hit A-Rod on the shin with a line drive during batting practice. Berkman's two months on the Yanks resembled something out of the Murphy's Law Handbook to Baseball.
Yet, with four at-bats on Thursday, Lance put the bad will behind him. He went 2 for 4 with a double and a home run and two runs batted in. His fifth inning home run put the Yanks up 2-1, and his seventh inning double put the Yanks on top for good as Jorge Posada scored from first. A week ago, Lance was an after-thought. Today, we love him.
With Lance's bat providing the offensive thunder, Kerry Wood's once-golden right arm has given the Yanks a solid set-up option in front of Mariano Rivera. We all know the Kerry Wood story — 20 strike outs at age 21, an arm injury, some good years a starter, overuse, more injuries, a move to the bullpen. After burning out in Chicago, Wood found success in the pen, but he seemed to flounder in Cleveland.
Dealing with some minor injuries, Wood's first 23 appearances this year were less than impressive. As the trade deadline rolled around, Kerry was 1-4 with a 6.30 ERA, but he had 18 strike outs in 20 innings. Yankee scouts liked what they saw, and for cash, the Yanks got Kerry.
Since arriving in the Bronx, Wood has been revelation. He walks too many guys — 6.2 per 9 innings in 26 innings — but he's striking out over 10 per 9 IP. His ERA in the Bronx was, with a little bit of luck, a minuscule 0.69. He's inherited the role left, with little confidence, to Joba Chamberlain, and he came through in a big spot on Thursday. With the Yanks up 4-2, the Twins sent up J.J. Hardy, Denard Span and Orlando Hudson in the 8th. To strike out Hardy, Wood threw a literal knee-buckling breaking pitch. Span grounded back to Wood, and Hudson struck out on pure heat.
Wood and Berkman are the ideal deadline pick-ups for the Yanks. They're veteran players with playoff experience and success who were toiling away on bad teams. For dollars, the Yanks could augment their roster and build up a bullpen and a bench. That's how Brian Cashman, with the Yanks' deep pockets at his disposal, should run his team.
The future for these two current playoff heroes remains hazy. Lance Berkman says he wants to play everyday next year. "I don't like to platoon," he said. "If I was the manager I would platoon me because I've been so bad righthanded this year. But I don't think that's a permanent problem. I like to play every day. The DH role is great but I also like to play the field. I feel like I've got something to offer still defensively."
Kerry Wood's deal features a club option for $11 million in 2011. That's closer money, and unless Mariano Rivera unexpectedly retires, Wood will seek employment elsewhere. He has the mentality for the 9th inning and indications are that he wants to close. He and Berkman will be just a pair of rent-a-Yankees.
The Yankees certainly know that Wood and Berkman probably won't return. They know that these two key cogs are fleeting, and they're going to ride them for all they can. Girardi will give Wood the ball for the 8th, and he'll let Berkman take his hacks against right-handers. Bring in the mercenaries with money, push them for the playoffs, and ride their coattails to victory. So far, it's a winning formula.