When the Yankees extended their season by taking Game Five yesterday, they did so thanks to the performances of their star players. Robbie Cano hit his fourth homer of the ALCS, Alex Rodriguez doubled to set-up a rally and drew two walks, Jorge Posada drove in the first run of the game and then came around to score, CC Sabathia provided six hard-fought innings, and Mariano Rivera was there to close things out in the ninth. The team's best players were their best players in the most important game of the season, but let's not understate the contributions they received from their deadline pickups.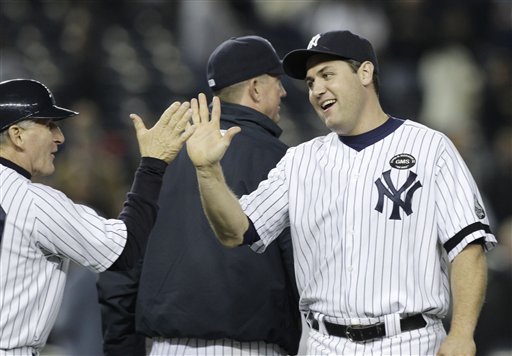 Mark Teixeira's season came to an abrupt end in Game Four when his right hamstring popped running down to first, so Lance Berkman is now stepping in as the Yanks' full-time first baseman. I don't know about you, but I'd have called you crazy if you woulda told me in April that Berkman would be the team's everyday first baseman in the ALCS. Does not compute.
Anyway, Fat Elvis dusted off his first baseman's mitt and took to the field for just the eighth time in forty games as a Yankee. I know he had some adventurous plays down in Tampa early on and even had that nasty spill yesterday, but overall Berkman is a solid defensive first baseman (his +13.1 UZR over the last three years is basically identical to Tex's, for what it's worth) capable of making all the routine plays plus a little more. He won't make the flashy plays or the throws that Teixeira can, but it's not like the Yankees had to resort to trotting Jason Giambi out there in the postseason.
Despite batting righthanded, by far his weaker side this season (.236 wOBA), Puma managed to contribute some offensively in Game Five, drawing a walk and driving in a run with a well-struck sac fly. His approach was rather simple; he just took everything not in his happy zone, which resulted in 22 pitches seen in just four plate appearances. The potential was there for zero offensive contribution, but Berkman's been a great hitter for a long time and he found a way to chip in anything he could from his weak side. That's all you could ask for from your backup first baseman.
After the Yanks had built up their lead and gotten all they could out of Sabathia, they handed the ball over to another July 31st pickup in Kerry Wood. The Yankee bullpen, a strength the entire second half, had faltered in a big way during Games Three and Four, allowing 11 runs and 16 baserunners in just five innings of work, but Wood was not involved in that disaster. The first batter he faced, the pesky Elvis Andrus, reached base on his eleventyith infield hit of the series, but some pitches and pickoff throws later, Wood caught him straying too far off second. Kerry had one pickoff since the 2006 season, but Andrus was his second of the ALCS. Lucky? Yes. Do you need luck to dig out of the three games to one hole? Also yes.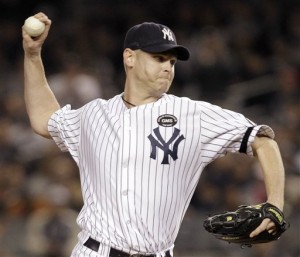 Wood went to work against the heart of Texas' order with the Andrus pickoff mixed in. He struck out both Michael Young and Josh Hamilton to end the seventh, and then came out to retire Vlad Guerrero, David Murphy, and Ian Kinsler in order in the eighth. David Robertson, Joba Chamberlain, and Boone Logan were horrifically ineffective during the past two games, but Wood stepped up in the must-win situation and give his club two big innings to bridge the gap between Sabathia and Mariano Rivera.
Berkman and Wood were ideal deadline pickups for many reasons off-the-field, such as low cost to acquire and short commitment, but on-the-field they made perfect sense. Both are veteran players with playoff (and in Berkman's case, World Series) experience, but more importantly they bought into their role. Berkman's a hero in Houston, where he played every single day and hit in the middle of the order for the last decade or so. With the Yankees, he was just a platoon designated hitter now pressed into a more important role. Wood was saving games for a last place team in Cleveland, and saves equal money on the free agent market. He joined the Yanks as just another cog in their deep bullpen, but emerged as someone much more important than that.
When the Yanks acquired these two guys at the deadline, none of us expected them to be this important with the season on the line. If you're going to lose a player of Mark Teixeira's caliber to injury, Lance Berkman's a pretty damn good replacement to have. Should the regular relievers falter, having a hard-throwing strikeout machine like Kerry Wood to back them up is more than you could ask for. Neither player will be with the Yanks next season, but right now they're doing everything asked of them and then some to help this team try to win a World Championship, and we appreciate that.