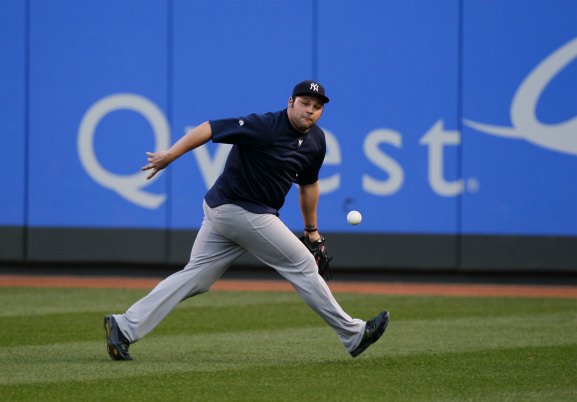 When a team goes through a series using only its starters and four best relievers, it usually goes without comment. That's the ideal scenario, especially when one of those four is a lefty and the other is Mariano Rivera. Yet there was one conspicuous omission: Joba Chamberlain. Joe Girardi never called his name in the series, and as with all things Joba it left plenty of room for speculation. Ben didn't waste any time.
The one common thread I've seen in the Joba discussion is how the Yankees will have to evaluate his future with the club this off-season. That's true, of course, but it's also true of nearly every player on the team and in the farm system. I'm not sure that his lack of use in the ALDS speaks to any greater need to discuss his future. The Yankees will evaluate him based on his body of work and how he has progressed, not on the manager's relief pitcher choice in one postseason series.
This raises two points I want to make about Joba, both of which I think play favorably for his future as a Yankee.
1) The match-up wasn't there. Ben noted this in his post. It's not necessarily that Girardi doesn't trust Joba; it's that he trusts Robertson and Wood more. There's nothing wrong in losing a battle to two relievers of that caliber. Plus, as I read on Jon Lane's YES Network blog, there might have been something else at play.
"It was just matchups," Eiland said. "Matchups where, for example, guys hit sliders better than they hit curveballs. Things like that. Joba's going to play a big part in this thing before we're finished this year, and he understands that. He's all in as is everyone else."
That might just be Eiland trying to cover for one of his guys. We hear that all the time. But we do have a way to check Eiland's statement. FanGraphs has a stat called pitch type values, which evaluate's a hitter's ability to hit certain pitch types. It's not perfect, of course, because it doesn't account for the pitch coming from a lefty or a righty, it doesn't consider pitch sequences, and it doesn't differentiate between similar pitches with different degrees of break. But in terms of publicly available information it's the best we have.
Six of the Twins' starters have fared well against sliders, per pitch type values. Orlando Hudson is a bit below average against sliders. Jim Tome and Jason Kubel rank as the team's worst, but that could very well be a lefty-heavy stat. In other words, it's possible that opposing righties don't throw them many sliders. Joba does handle lefties well — he struck them out at a better clip than he did lefties this season — but since he relies on his slider it is perhaps understandable that the Yankees left him out.
(For what it's worth, the Twins as a team seemed to fare a bit better against curveballs.)
2) He actually put together a good season. Remember when Joba had a terrible ERA, but we kept saying that his peripherals suggested he'd perform better? Through July 25 Joba had a 5.95 ERA, but a 3.02 FIP. It wasn't necessarily bad luck on balls in play, but that had to play some role in such an immense discrepancy. From his appearance on July 28 through the end of the season, Joba had a 2.15 ERA and 2.91 FIP. In other words, things started to get better. He ended the season with a 2.98 FIP, 3.34 xFIP, 3.12 tERA, and 3.16 SIERA. All of this suggests that he can certainly rebound next year.
Returning to the question of the Yankees' decision on Chamberlain this off-season, I now turn to a mailbag question.
How would you rate his market value? Teams might acquire him as a starter or reliever — what would he bring in return?
I think that his greatest value is to the Yankees. I'm not sure how other teams view him, though I'd guess that they'd want him in a starting role. But even if he stays in the bullpen, I think he can provide more value there for the Yankees than they can receive in return. As Brian Cashman has said, he's a starter in the bullpen, so he can provide depth for the rotation, if not win a spot outright. He has also shown that he can be an effective relief pitcher.
The main reason I think he's more valuable to the Yankees is that I'm not sure how they'd use him in a trade. Assuming Jeter re-signs, the entire infield is back, as is the entire outfield. They could trade him for a pitcher, but I don't see how Cashman can trade Joba for a better pitcher. The only other option is to trade him for bench depth. But then you're just trading pitching depth for position player depth, and that's not an exchange I favor. Pitchers get hurt all the time. Having every possible pitcher available is important for any team.
No matter what he does, or doesn't do, Joba Chamberlain will continue to act as a lightning rod for Yankees fans. The guy excited us as a reliever in 2007, and then tantalized us as a starter in 2008. He hasn't been the same guy since, which has caused much frustration. But the Yankees organization does not think like a fan. They know Chamberlain's value to the team. When they evaluate the team's situation this off-season, I'm fairly certain that they will determine that Joba will play a role on future Yankees teams.