Over the next week or two or three, we're going to recap the season that was by looking at what went right as well as what went wrong for the 2010 Yankees.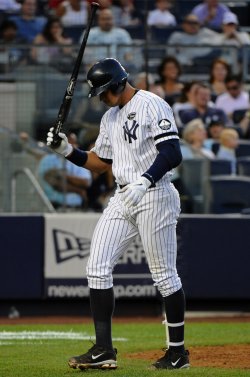 In March of 2009 Yankees fans got a scare. During his stint in the World Baseball Classic he suffered a hip injury — though it was actually a lingering issue that came to a head during that time. The outlook appeared grim at the time, but Dr. Marc Philippon suggested that an arthroscopic procedure would allow A-Rod to play the season, after which he could have the more invasive procedure. But after a season in which he hit .286/.402/.532 and played the hero in the postseason, the second surgery was deemed unnecessary. A-Rod would return at full strength in 2010.
A year later, Rodriguez has wrapped up the worst full season of his career. He produced career lows in batting average and OBP, while his SLG just barely edged out the .496 mark he posted in 1997. He walked less, just 9.9 percent of the time, and he hit line drives at an astonishingly low 13.8 percent rate. While things might have seemed worse early in the season, when he had just one home run on May 8, he actually went through a horrible slump from early June through mid-August, during which he hit .227/.290/.431 in 241 PA, which accounted for about 40 percent of his season. It would have been a lot worse, too, had he not gone 4 for 5 with three homers in a game against Kansas City. After that game he went 0 for 6 before heading to the DL with a strained calf.
Rodriguez was actually one of the few Yankees who hit in September. In his 112 PA he hit .295/.374/.600, including nine home runs — four of which came against Boston. But that didn't lead to a good postseason performance; Alex went 7 for 32 with two doubles and four walks, but not much else. His one shining moment was driving in two during the eighth inning of the ALCS Game 1. But other than that, much like the rest of the Yankees offense, he came up empty. It was a fitting end to a disappointing season.
To get an idea of why A-Rod had a poor season, we can take a look at his spray charts, courtesy of Texas Leaguers. Here's 2010: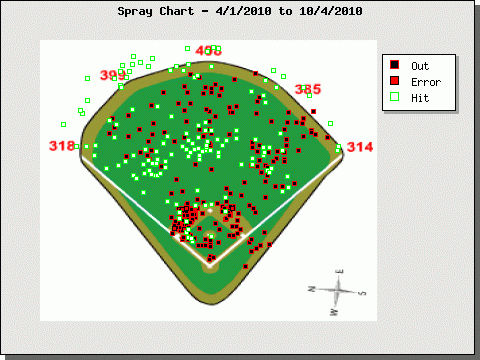 That doesn't look like a terrible spray chart, but when you look at his 2009 chart, the differences are noticeable.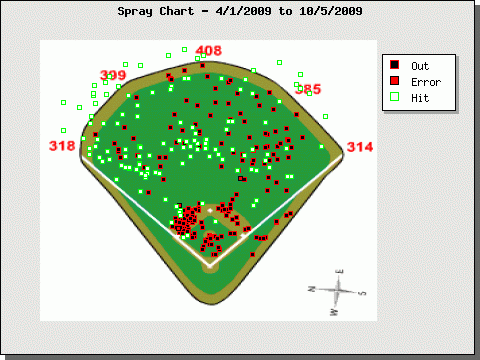 The green dots down the left field line immediately stand out, as do the balls that lie beyond the left field fence. It appears as though Alex pulled the ball with much more authority in previous years. There also seems to be a greater concentration of green dots in the shallow outfield this year. These two factors, combined with his abysmally low line drive rate, suggests that he didn't have a feel for his swing this season. Kevin Long did lend a hand in August, helping A-Rod with opening his hips as to generate more power. That appeared to help, as evidenced by his three-homer game followed by a power-filled September. But it wasn't enough to recover the lost season.
What makes A-Rod's season hurt is just not his production compared to his previous years, but his production compared to the average AL cleanup hitter. While his .270/.341/.506 season handily outpaced the average AL third baseman, it was in line, or perhaps a bit worse, than the average AL No. 4 hitter, .275/.350/.477. In other words, in what is supposed to be the most productive lineup spot, the Yankees got average results. That's not something they expected coming into the season. In 2009 A-Rod was far better than the average cleanup hitter.
Still, the season wasn't a total loss. Alex did get his hits when it really mattered. With men on he hit .296/.368/.556, and with runners in scoring position he hit .283/.355/.500. He also managed 11 sac flies and a .364/.373/.727 line with a runner on third and less than two outs, while hitting .286 with a runner on third and two outs. The discrepancy between his production with the bases empty and with runners on base might not be a sustainable one, though there is hope that the former rises to meet the latter next season.
Heading into next year, Alex will face many questions stemming from his relatively poor 2010 season. Did his hip affect him? Does he regret not having the second surgery? What will he do to correct the power issues that afflicted him early in the season? But given what we know about his talent, we shouldn't expect a repeat in 2011. Players have down years all the time; A-Rod just happen to have his first one in 12 years this season.