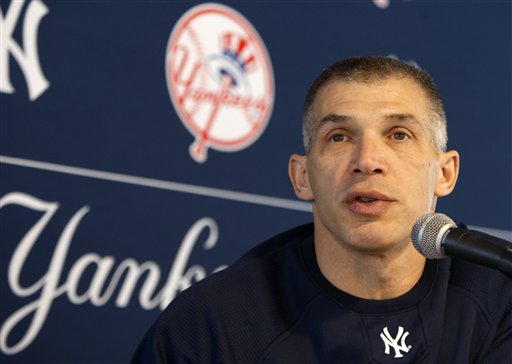 After the Yankees were eliminated from the ALCS last week, Brian Cashman said his first order of business would be to re-sign manager Joe Girardi. Six days later, that's been taken care of. Mark Feinsand reports that the two sides have agreed on a new three-year, $9M contract, exactly what's been rumored for the last few days. Joel Sherman says there is another $450,000-$500,000 in bonuses related to ALCS and World Series finishes. The I's are still being dotted and the T's are still being crossed, but otherwise it's pretty much a done deal. An official announcement could come as soon as today according to Feinsand, but tomorrow's a safer bet since it's the World Series off-day.
The 46-year-old Girardi has been managing the Yankees since the 2008 season, and has guided them to the game's best record since taking over at 287-199. After the Yankees missed the playoffs for the first time in 13 years during his first season as manager, Girardi led the Yanks to their 27th World Championship in 2009 and owns a 16-8 record in the playoffs during his career. He's been criticized for everything from being too uptight to getting too caught up in matchups to using a binder (oh noes!) to falling in love with his backup catcher, but to a man the players have all said they love playing for Joe since he's gotten here, and that's important.
Speculation was that he could bolt for his hometown Chicago Cubs after the season, who were looking for a manager following Lou Piniella's sudden retirement earlier this year. That option vanished for Girardi two weeks ago when the Cubs removed the interim tag from Mike Quade and gave him the manager's job outright. We'll probably never know if Girardi intended to pursue that job, but we do know one thing, he lost some negotiating leverage when that option was taken off the table.
Although we don't know the exact breakdown of the new deal, the average annual value is the sixth highest among MLB managers, tied with Philadelphia's Charlie Manuel. Girardi's previous contract was for $7.5M over three years, so he's getting a $500,000 a year raise. Honestly, that seems quite modest. I'm surprised it's just a 20% raise. I guess that's a result of the Cubs not being an option. Either way, welcome back Joe.
Update: Joel Sherman says Girardi will receive exactly $3M per season, so no signing bonus or anything like that.