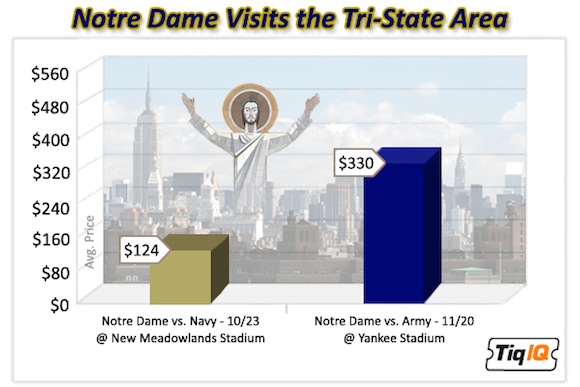 Yankee Stadium hosts a sporting event this weekend as the Notre Dame Fighting Irish take on the Army Black Knights in the new stadium's inaugural football game. For the Yanks, this is a key moment for the House that George Built because they need this non-baseball events to be successful to help offset the costs of building the new facility, and early indications are that this game will have more than 51,000 fans in attendance.
If you're still looking for tickets or thinking about going at the spur of the moment, our partners at TiqIQ have over 360 tickets available, and their numbers show that the game at Yankee Stadium is outpacing the game Notre Dame played against Navy at the new Meadowlands Stadium last month.
Meanwhile, for those bound for the stadium, Metro-North will be running extra trains through the Yankee Stadium stop both before and after the game. The full details for train service are right here.