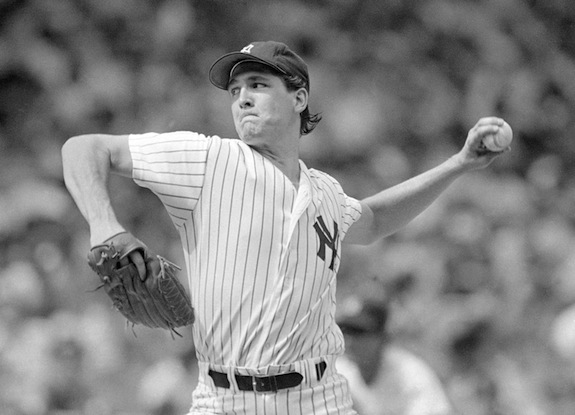 Once upon a time, the Yankees pulled off a coup. In November of 1978, the Yankees traded Mike Heath, Sparky Lyle, Larry McCall, Dave Rajsich, Domingo Ramos and some cash to the Texas Rangers for Juan Beniquez, Mike Griffin, Paul Mirabella, Greg Jemison and former first round draft pick Dave Righetti. When the Yanks signed Goose Gossage, incumbent closer Sparky Lyle wanted out, and the Bombers, as Murray Chass wrote, "salivated over Righetti."
"All of the reports on him are super," team president Al Rosen said. "He might be the best pitching prospect in the minor leagues. [Scout] Jerry Walker thinks we have another Guidry, but I don't think that's possible."
Righetti, then just 20, made his debut as a September call-up in 1979. He started three times that fall and went 0-1 but with a 3.63 ERA. He walked 10 in 17.1 innings — six in his Major League debut — and struck out 13. But in 1980, he hit a roadblock. Expected to make the team out of Spring Training, he struggled during the Grapefruit League and spent the year at AAA Columbus. Faced with what his pitching coach called "unreasonable expectations," Righetti struggled to find consistency and would not return to the Majors until 1981 when he stuck around for good.
On May 23, Righetti came up to take a spot in the rotation vacated by a trade. The hard-throwing lefty dazzled. He had the command that had eluded him throughout 1980, and the Yanks stuck with him. In 105 innings spanning 15 starts, he went 8-4 with a 2.05 ERA, struck out 89 with a league-best 7.6 K/9 IP and walked 38. He beat Milwaukee twice in the ALDS and Oakland once in the ALCS before succumbing to the Dodgers in the World Series.
In 1982, his control eluded him a bit. He went 11-10 with a 3.79 ERA and struck out 163 in 183 innings, but he also walked 108. It was a down year, and one he would out-pitch in 1983. That year, he became the first Yankee to throw a no-hitter since Don Larsen's perfect game, and he did it on George Steinbrenner's birthday as well. He 14-8 with a 3.44 ERA in 217 innings, and the Yanks were well on their way to developing an ace.
Yet, after a 2.1-inning start against the Indians on September 18, 1983, Dave Righetti would not make another Major League start until 1992 when he was with the Giants, pitching 3000 miles away from the mercurial Yankees. The Yankees, you see, decide — or rather George Steinbrenner unilaterally decided — that, with the departure of Gossage, Dave Righetti would become the closer. And he would pitch only in the 9th inning, as the Boss made perfectly clear year after year.
"He is going to be the closer," Steinbrenner said in a 1990 Sports Illustrated profile on Rags. "He will be brought in in the ninth inning. Period. I'm the only one who knows how to use him. I've told my manager and coaches, 'If you reach for him too early, you'll be reaching for the next train home.'"
Six years before that proclamation though, the drama played out in the pages of the newspaper. Righetti found out that he would be closing when his brother read a report in the paper, and the Yanks' explanation for it was quixotic at best. As Steve Aschburner wrote:
How smart is [Steinbrenner]? According to him, Righetti is a natural to replace Gossage. He breaks out the numbers: In the first two innings, Righetti had a 1.90 earned-run average. His strikeout-to-walk ratio was better than 4-1. Opponents batted just .190 in those innings. By contrast, Righetti's ERA after his first two innings jumped to 4.06, his strikeout-walk ratio dropped to 2-1 and opponents averaged .255. If Righetti could do so well in the first two innings, Steinbrenner reasoned, he could do it in the last two.
And so a closer was born. Instead of finding another reliever to take over the ninth inning spot, George went with the hard-throwing left-hander who had enjoyed success as a closer. It was a typical George Steinbrenner Mid-1980s move.
Over the next few years, the Yankees would toy with the idea of moving Righetti back into the rotation. The team could never quite find the starting pitcher they needed to overcome years of missing the playoffs, but the Boss always wanted to keep Righetti in that ever-important closer role. He never wanted to be a reliever. "David didn't want to become a reliever. He was worried he would fail and be out of baseball. He could probably have been a 20-game winner for five or six years and made twice as much money," Righetti confidant Bill Goodstein said to Sports Illustrated.
Yet, as 210 other players wore pinstripes throughout his tenure as a Yankee reliever, Righetti bore the brunt of Spring Training rumors. Will he or won't he start? "People always ask me how I can keep so quiet," Righetti said. "Well, sooner or later, you cause yourself more problems by talking."
But by 1990, he was clearly fed up with it, and after the season, he jumped to the Giants as a free agent. A Yankee fan by birth, he left behind the pinstripes. "I wish Yankee fans appreciated me as a reliever. They've never accepted me because the team has never stuck behind me as a reliever. And because I've never complained, they think I don't stand up for myself. They think I'm a patsy," he said a few months before leaving.
Righetti's Yanks finished second twice as he closed, but then they slipped down in the standings. By 1990, they were a seventh place team with their homegrown closer and erstwhile starter logging just 53 innings on a staff that put together a league-worst 4.21 ERA.
This year, Righetti triumphed. He won the World Series as the pitching coach of the Giants, and he captured the ring that had eluded him while a member of the Yankees. He did so with four homegrown starters pitching on a staff modeled after Guidry. They lead the NL in ERA and strike outs and allowed the second-most walks in the NL. The Yankees of the 1980s meanwhile always had to grapple with a harsh reality: Perhaps moving a hard-throwing left-handed starter to the bullpen to fill a role that didn't need filling by such a promising young arm was not the best move for a franchise always searching for homegrown pitching.