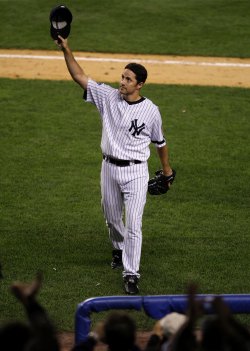 Baseball is not your typical business. Employees, i.e. players, cannot expect a raise every year. They can for a certain period, but at some point their skills begin to decline. At that point teams are willing to pay them less and less, and for good reason. Understandably, players try to fend off this notion for as long as possible. Not only does it mean less money for them, but it's an admission that they're getting older and won't be able to do the things they once did. No one wants to admit that to themselves.
Some players take this better than others. As we saw last year, Johnny Damon didn't take it well at all. He turned down an offer from the Yankees because it constituted a pay cut. This winter we're seeing Derek Jeter desiring to remain at his $20 million salary even though his production no longer justifies it. Yet I can remember one player who took a pay cut graciously. That happened in the winter after the 2006 season, and the player was Mike Mussina.
In the winter following the Yankees' third straight World Series victory, the market was rife with free agents. Manny Ramirez, Alex Rodriguez, and Mike Mussina highlighted the class. The Yankees went with the pitcher, signing Mussina to a six-year, $88.5 million contract. In the deal's final two seasons, plus the 2007 option season, Mussina earned $17 million. But by the end of the 2006, even though he had pitched very well during that season, he realized that he wasn't going to make $17 million again. So he took a pay cut.
The deal went pretty smoothly from what I can remember. Mussina signed for two years and $23 million — a $1 million signing bonus and $11 million in each of the two seasons. That represented a nearly 55 percent pay cut from his 2006 salary, and a 34 percent pay cut from the average annual value of his previous contract. Yet he took it with grace. In fact, the only stipulation on it seemed reasonable: he demanded to make more than Carl Pavano. Done and done, said Cashman.
In some way, I can see a parallel for Derek Jeter. In one way, he's in a unique situation and therefore can't really compare himself to someone else. In another way, I can't really blame him for wanting more than A.J. Burnett. That's why a three-year, $50 million contract makes sense. That not only puts Jeter's salary a tick above Burnett's, but it also means their contracts expire at the same time. I can even see the Yanks being generous and offering an option year, so that Jeter might stay with the team longer — and so that he makes more from the Yankees in 2014 than Burnett does.
(If the Yankees wanted to get really generous they could go three years, $56.7 million, which would replicate the average annual value of Jeter's previous contract.)
Yet it's clear that Jeter is not being as honest with himself about his position as was Mussina. That's his right, I suppose. Rare is the player in Mussina's mold. Still, I can't help but wish Jeter would see things in the same way as his former teammate. If that were the case, he'd already have a contract by this point.