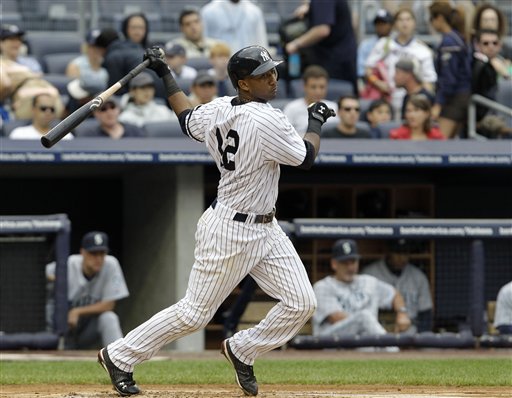 The gang at Baseball America is currently in the process of posting their individual top ten prospects lists for each team, and so far they've covered the Orioles and Red Sox. The Yankees' list is scheduled to go live on their website next Wednesday (it was supposed to be this Friday, but they re-arranged the schedule), but the print edition of the magazine already contains the list. I got my hands on it with some help from reader Avi, so here it is with a tiny little snippet from the scouting report…
Jesus Montero, C: "may be the best all-around hitter in the minors, capable of hitting .300 with 30-plus homers annually … best-case scenario is that he develops into the second coming of Mike Piazza"
Gary Sanchez, C: "has a higher ceiling than anyone in the organization, including Jesus Montero"
Dellin Betances, RHP: "If Betances can build on the progress he made last season, he'll be a frontline starter for New York … he still could wind up in the mix to eventually replace Mariano Rivera"
Manny Banuelos, LHP: "has the poise to move quickly, and now he has frontline stuff"
Andrew Brackman, RHP: "For some scouts, Brackman's whole is less than the sum of his parts, earning comparisons to A.J. Burnett and Kyle Farnsworth"
Austin Romine, C: "Montero has more star potential with his bat, Romine is a more well-rounded player … may become trade bait"
Hector Noesi, RHP: "lacks the breaking ball to pitch near the front of a rotation, but his fastball command should allow him to be a No. 4 or 5 starter"
Eduardo Nunez, SS: "Yankees see him in the Chone Figgins mold as a utility player"
Slade Heathcott, CF: "physically resembles Brett Gardner and has some similarities to New York's left fielder, but Heathcott should develop  more power and has a stronger arm"
Brandon Laird, 3B: "profiles as a third baseman in the Kevin Kouzmanoff mode … could become trade fodder"
Montero's a no-brainer at the top spot, and really the next four guys are interchangeable in my eyes. You could have pulled their names out of a hat and ranked them two through four that way and I wouldn't have made much of an argument. At that point you're splitting hairs and going by personal preference, and I prefer the three Double-A arms to the kid that has yet to appear in a full season league. That's just me though.
Romine's a natural fit at six, and after that you could go in any number of directions. I prefer Heathcott in that spot because of the upside, but there's nothing wrong with Noesi, who's a surefire big leaguer in some capacity. You all know how I feel about Nunez, so I don't think I need to comment on him. Laird had a huge year and made some improvements defensively, so it's not a surprise to see him jump into the top ten.
Just think, the Yanks have three pitchers in Adam Warren (2.66 FIP), David Phelps (2.65), and Ivan Nova (3.54 in Triple-A) who had great years and are knocking on the door of the big leagues, but couldn't even crack their top ten. Then there's Graham Stoneburner (2.73 FIP) and J.R. Murphy (.320 wOBA in Low-A as a 19 year old). The farm system is in very good shape these days;  the Yanks plenty of depth to trade from and use to plug holes at the big league level.