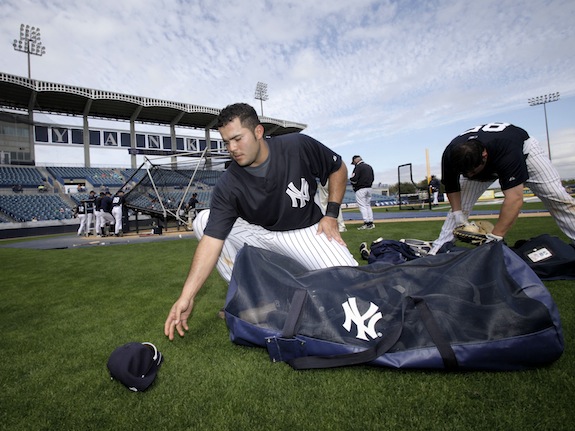 Jesus Montero will be the Yanks' starting catcher next year, says a Daily News report. Ideally, Montero will catch 100 games with Jorge Posada DHing and filling in behind the dish at times. Francisco Cervelli will start the year as the team's back-up catcher, but if Austin Romine progresses, he could unseat the defensively inconsistent fist-pumper extraordinaire. The future, in other words, is here, and it's one we've been anticipating since September.
We've heard this kind of plan before from the Yankees. Bubba Crosby was to start at center field before Johnny Damon came aboard. Nick Swisher was to be the primary first baseman before Mark Teixeira inked his monster deal. This time, though, Montero — at least at the plate — isn't the second choice. He's not a sleight-of-hand designed to serve as a negotiating chit. Offensively, he can be a Major Leaguer, but can he catch?
For Montero's future and for the Yanks, his ability behind the plate will determine the team's long-term and short-term plans for catcher, and few can agree on what those plans will be. Mark Feinsand says that the Yanks will not consider trading Montero this year. The team, he says, discussed it last week. "Montero's future was among the topics of discussion during the Yankee meetings at the Stadium over the past two days, with Lee and the free-agent and trade markets dominating the conversation," he writes. "Montero's defense has been scrutinized, but team brass believes he made enough strides this season to assume the bulk of the workload in 2011."
The defense is the issue. Montero is the Yanks' number one prospect and has been for a few years. But that's because of his bat, which many believe could be as good as Mike Piazza's or even Miguel Cabrera's. Last year, Baseball America questioned his defense:
Montero has improved under the tutelage of catching coordinator Julio Mosquera, but he still grades out as a below-average defender. The Yankees no longer talk about him as an everyday major league catcher. His defense frequently is compared to Mike Piazza's, though he's a bit more athletic. Montero is somewhat stiff and lacks agility behind the plate, leading to 11 passed balls in 59 games last year. He also threw out just 13 percent of basestealers at high Class A Tampa, and they tested him 108 times overall—nearly two attempts per game. While he improved, he has a long arm stroke that slows his transfer and detracts from his arm strength. His modest athleticism and below-average speed probably preclude a move to the outfield or third base, a position he played prior to signing.
Those who saw Montero play at AAA in 2010 say these concerns weren't resolved. This year, he caught 105 games, and while he threw out 23 percent of would-be base stealers, International League opponents attempted 129 stolen bases against him. He also allowed 15 passed balls, and scouts — including ESPN's Keith Law and Baseball Prospectus' Kevin Goldstein — are wary of his future behind the plate. I haven't seen him in person yet, but it doesn't seem as though we can feel entirely comfortable with the idea of Montero's catching 100 games.
Of course, Yankee fans are used to seeing sub-par defensive catchers. Jorge Posada hasn't been at his peak behind the dish in a few seasons, and Cervelli hasn't put his tools to use yet. If Montero's bat is as good as advertised, he might be able to overcome defensive lapses, and he should be able to learn from Tony Peña at the Big League level.
Still, it's a chance the Yankees almost have to take. They can't give Cervelli over 300 plate appearances again in 2011, and Posada can't withstand the every-day demands of catching. "It seemed when we caught him three days in a row, that was about the limit," Girardi said to Feinsand of Jorge.
So the future starts in March. Montero will officially be given the chance to win the job out of Spring Training, but as we saw in 2010 with Phil Hughes, it will have to take an awful Spring Training for Montero to lose that battle against himself. Here's to hoping the glove can handle the Big League job.