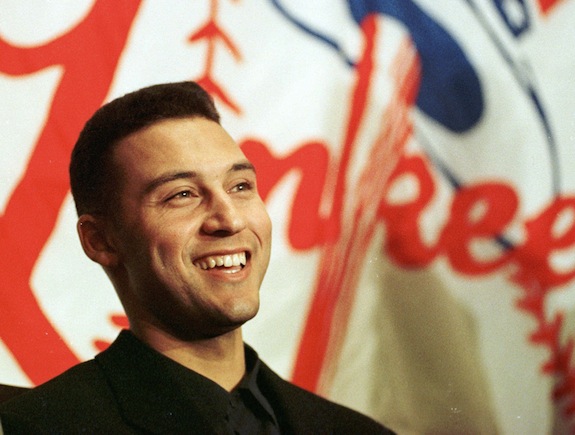 Now that Derek Jeter is a free agent for the very first time in his 16-year Major League career, Yankee fans are beside themselves. Some seem to wonder why the Yanks are intent on screwing over Jeter while others believe Jeter is being incredibly selfish. Most are just going to sit back and let the tale play out, calm in the knowledge that the Yanks and Jeter will reach a deal fair to both sides.
I fall in the third camp. Thus when a report comes out that says the Yanks will "overpay" for Jeter's services, I sit back and yawn. This wasn't news a year ago; it's not news today. Of course, the Yanks will give Jeter more than he'd get on a purely open market. He's a marketable face of the franchise, and as long as they overpay in dollars and not years, it won't have a significant long-term impact on the Yanks' chances on the field.
So as we wait for Jeter-mania to play itself out, let's hop in the Wayback Machine and revisit Derek Jeter's last contract negotiation. It was a different time for the Yankees. They hadn't had embraced their financial might to the same extent that they do today, and baseball salaries hadn't yet exploded as they would following A-Rod's, Manny Ramirez's, Mike Hampton's and, of course, Jeter's deal during the winter of 2000-2001.
The story starts after the 1999 season. Jeter had just played his age 25 season, and he was already a Yankee legend in the making. With a .318/.389/.465 line and three World Series rings, the next great Yankee was staking his claim to a big pay day. He had earned himself a $5 million deal for 1999, and in his second year of arbitration, he had asked for a record-setting $10.5 million award.
The Yankees knew it would behoove them to act. They knew that A-Rod's looming free agency following the 2000 season would set the market, and 12 months before A-Rod signed his deal with the Rangers, the $200 million figure swirled in the winter winds. But before that record-setting winter arrived, the Yankees and Casey Close tried to lock up Jeter to a long-term deal.
As Buster Olney reported in January of 2000, the Yankees were prepared to offer a record-setting deal to their young short stop. The two sides were expected to wrap up negotiations before the end of January, and the deal was believed to be for seven years and $118.5 million. Running from 2001-2007, it would have been the largest deal in baseball history and second in professional sports only to Kevin Garnett's six-year, $126-million contract. While the average annual salary of $19.75 million seemed steep then, Yankee officials expected it to be a bargain by the time it expired after the 2007 season.
But George Steinbrenner got cold feet. At the time, Steinbrenner didn't like to flaunt the Yanks' fiscal might, and he never liked to saddle his young stars with long-term deals. He wanted them to earn it. That hesitancy combined with the fact that, as subsequent reports stated, he didn't want to make Jeter the game's top earner led the Yankees to wait on a deal. Bob Klapisch opined that the Boss never intended to make Jeter the highest-paid player and floated the figures to the media gauge the other owners' reactions. Steinbrenner, wrote Klapisch, didn't want to "be accused of buying championships" or "ruining baseball's economy." Those were the days.
After the Yanks downed the Mets in the 2000 Subway Series and Jeter took home the All Star and World Series MVP, the team acted. Jack Curry speculated that Jeter's deal would be for eight or nine years at $18.5 million a pop. He wasn't far off. Throughout the winter of 2000-2001, the New York media watched the Jeter negotiations closely, and a deal didn't materialize quickly. Buster Olney noted how it would be costly to the Yanks, and as January wore on without a contract in place, Tom Keegan of The Post urged Jeter to hit free agency and sign with the Mets.
In early February, the deal was done. The Yanks and Jeter were in it for the long haul at 10 years and $189 million. Jeter wound up making, as Anthony McCarron noted, around $8 million more over the first seven years of his contract than he would have had the Boss not gotten cold feet a year earlier. The contract did not come with an opt-out and was heavily backloaded to allow the Yanks financial flexibility — for Mike Mussina and Jason Giambi — in the early years. "It's lower in the early years to help us go out and sign guys," baseball's then-second-highest paid player said.
A handful of players — Mark Teixeira, Joe Mauer, CC Sabathia and Johan Santana, among them — have made more money on an annual basis than Jeter, but since Jeter signed that deal in 2001, only Alex Rodriguez has signed a longer deal for more money. I can't help but wonder what deal Jeter would have signed after his 2007 campaign. It would have been a far better for his wallet had he hit free agency then. With A-Rod and Jeter both on the open market, the Yanks would have been in some financial pickle.
But now is the time of Jeter's free agency, and we'll keep waiting for that deal to be signed. It'll happen before too long. I'm not worried.
Photo: Derek Jeter accepts his 1996 Rookie of the Year Award. He is 21. (AP Photo/Ron Frehm)