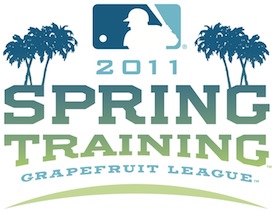 Mark your calendars. Yankee baseball returns in just 110 days.
The team announced today that their Grapefruit League play will commence on Saturday, February 26 with a 1:05 p.m. match-up against the Philadephia Phillies at George M. Steinbrenner Field in Tampa, Florida. This is, said the team, the second-earliest Spring Training start in the last 60 years, behind only 2009's World Baseball Classic-inspired February 25 opening day. The teams begin Spring Training play so early this year in order to fit in a lengthy slate of 32 games and to ensure that the World Series ends before November begins.
The tentative schedule is available here. Per the team, the highlights are as follows:
The Bombers play 16 home games including four Saturday games all at 1:05 p.m.
The Grapefruit League schedule ends with five of six games at Steinbrenner Field. The Tigers will be the team's final Spring Training and first regular season opponent.
The Yankees play seven home night games: Friday, March 4 vs. Boston; Wednesday, March 9 vs. Pittsburgh; Wednesday, March 16 vs. Baltimore; Thursday, March 17 vs. Tampa Bay; Wednesday, March 23 vs. Toronto; Friday, March 25 vs. Houston; and Monday, March 28 vs. Tampa Bay.
Pitchers and catchers will report on February 14, and the first full-squad workout is set for February 20.
In addition to a full spring of games, the Yanks will also host the "Florida Four" on Tuesday, March 1. The University of South Florida will play Miami at 4 p.m., and Florida will play FSU in the second game.
Season tickets for the Grapefruit League are on sale now at Yankees.com, and individual game tickets go on sale at 10 a.m. on December 3. If you have the opportunity to go Tampa for Spring Training, take it. It's truly great fun.