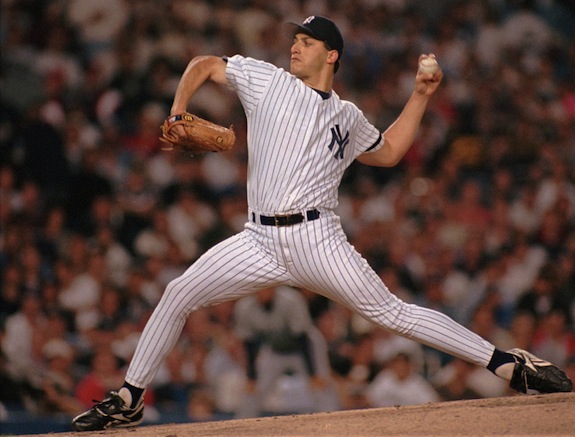 A few weeks ago, as he adjusted to life back home after a physically taxing season, Andy Pettitte spoke of his uncertain future. Not sure if he wanted to pitch again in 2011, he said that if he were to take the mound again, it would be for only one more year. "At this point in my career, it'll be New York or it'll be nowhere for sure," he added. That hasn't stopped other teams from calling.
According to a report in The Daily News, Texas Rangers president Nolan Ryan has "reached out" to Andy Pettitte to see if "he could convince the veteran lefthander to pitch in his home state." Neither Pettitte nor the Rangers have commented on the report.
So should we be worried? I don't think so. Pettitte has been very explicit in stating his desire to pitch for the Yanks or to stay home. He tried the Houston gig a few years back and wound up in the Bronx again. I do think the Rangers are taking an obvious jab at the Yankees because they see New York at Cliff Lee's next home. Why not make the Yanks sweat as they pursue Lee and try to re-sign their own free agents at the same time?
If anything, as Mark Feinsand notes, the Rangers' interest might bump up Pettitte's price tag a bit. He made $11.75 million in 2010, but due to concerns over Pettitte's age and health, the Yanks were probably hoping to see that figure drop a bit. With other interest, Pettitte has the ever-important leverage — something that has, for instance, so far eluded Derek Jeter — and he could make the Yanks pay for it.
* * *
Update (10:00 p.m.): The Rangers have seemingly denied contacting Andy Pettitte, MLB.com's Bryan Hoch reported this evening. According to Hoch's Rangers' sources, "the only contact between Pettitte and the club was when the lefty called Ryan after the ALCS to congratulate him." Take that for what you will.