Dax asks: I read somewhere (I think it was MLBTR) that the Rays are going to non-tender Willy Aybar. What do you guys think of him as a bench player? I know it's not the 1st order of business, but I think he'd make a good addition. He can play 3rd, 2nd and 1st.
I've been an Aybar fan since he was with the Dodgers and I was actually the one that wrote the non-tender post about him at MLBTR. The Rays declined his $2.2M option earlier this month but since he only has four or so years of service time, he's arbitration eligible for both 2011 and 2012. They'll have to non-tender him before the December 2nd deadline for the Yankees to be interested. I don't see why they'd try to trade for him without at least seeing if he hits the open market first.
Some background: Aybar signed with the Dodgers as an international free agent back in 2000 and was eventually traded to the Braves for … former Yankee Wilson Betemit. Look at that. He battled injuries and substance abuse with Atlanta for a season-and-a-half before being traded to the Rays for no one in particular (Jeff Ridgway) before the 2008 season. They used him as a stopgap third baseman until a) Evan Longoria was called up in April, and b) he hit the disabled list for a hamstring strain. Aybar's been sort of a utility player/platoon designated hitter since.
Aybar was rock solid during his first year in Tampa, putting up an ever so slightly below league average .321 wOBA in 324 plate appearances while spending time at first, second, and third bases. The switch-hitter mashed lefties, tagging them for a .347 wOBA. That total package was worth 1.6 fWAR, a bargain for a salary that barely cracked $400,000. That performance landed him a two-year contract worth $2.6M, buying out his first two years of arbitration as a Super Two. The deal also included the option that the team just declined.
Aybar was even better offensively in 2009, posting a .328 wOBA overall and .381 wOBA against southpaws. He dropped down to 0.2 fWAR because UZR hated his defense, though he was still a fine utility option for a team on a budget. Unfortunately, Aybar's slide continued into 2010. He wOBA'd just .293 overall and .304 against lefties, though I'm sure you remember this shot. Tampa had some younger and better defensive infielders on the roster, so Aybar spent almost all of his time at DH. At -0.5 fWAR, he was a total drag on the team's payroll.
So what's going on here, why has Aybar's production slipped? It all starts with getting the bat on the ball, and Aybar's ability to make contact has gone south since 2008. That year he made contact on 92.1% of the pitches he swung at in the strike zone, but it then dropped to 91.0% in 2009 and then again to 88.8% in 2010. His overall contact rate declined as well, from 87.7% to 84.7% to 83.9%. Aybar made things worse by swinging at more pitches out of the zone, offering at 24.8% of such offerings in 2010, up about 3% from previous years. Pitchers obviously picked up on this and guess what? They stopped throwing him strikes. Just 46.2% of the pitches Aybar saw in 2010 were in the strike zone, down from 48.1% in 2009 and 50.9% in 2008. Unsurprisingly, Aybar's strikeout rate has climbed steadily over the last three seasons…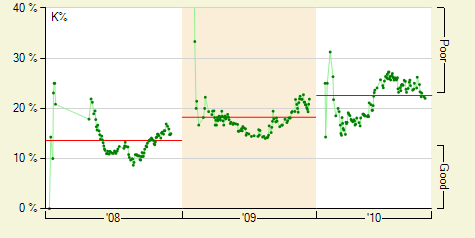 Plate discipline and the ability to get the bat on the ball aren't easily correctable based on what we've seen historically, though it can always happen. Kevin Long did a bang up job helping Nick Swisher and Curtis Granderson make harder contact as their time in pinstripes went on, but they still struck out at their previous rates. We can't just assume that K-Long will fix Aybar's ever-increasing whiff issues.
Now that's not to say he's a lost cause. Aybar still offers solid pop and aside from 2010, his track record against lefties is very strong. He doesn't turn 28 until March, so it's not like age-related performance decline is a concern. He can play the corner infield spots and also fill in at second in a pinch, and I'm willing to bet left field would be an option as well if they let him try it. Bill James projects Aybar to return to a .322 wOBA level next year, which is far better than what Ramiro Pena did this season (.247 wOBA). The problem is that you'd still have to carry someone like Pena or Eduardo Nunez to play the middle infield consistently, so in reality you're looking at Aybar as a Marcus Thames replacement. The designated lefty masher that's slightly more usable in the field.
None of this matters unless the Rays non-tender Aybar, of course. I suspect they will because they're cutting payroll next year and they already have superior (and cheaper) utility options like Reid Brignac and Sean Rodriguez on the roster. Cutting Aybar would result in about $2M in savings, not an insignificant amount for a club expected to have a $60M or so payroll. If/when he gets non-tendered I'd certainly want the Yankees to at least kick the tires and see if there's a fit. Aybar could command $2M or so on the open market, which is very reasonable if he gets back to crushing southpaws. It's certainly more preferable to Bill Hall, in my opinion. Like I said before, I'm a fan, so I'd be down with Aybar on the bench in 2011.