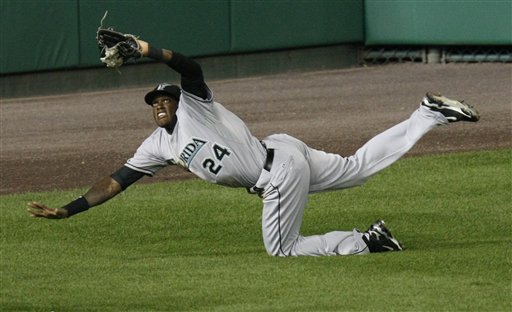 Apparently it's "let's forget all about that Miguel Cabrera trade" weekend in Florida. After dealing Andrew Miller yesterday, the Marlins traded the other key piece in Miggy haul today, sending Cameron Maybin to the Padres for a pair of relievers. Righty Burke Badenhop (3.67 FIP in 67.2 IP this year) is the lone survivor of the Cabrera trade, the other five players are all elsewhere now. How about that.
My quick take: I like the move for both sides, more for San Diego though. They have bullpen pieces to spare, and Maybin's still only 23 if you can believe it. Lots of talent, and it's worth a shot to see if he can figure it out on your team. Florida needed bullpen help, and the two guys they got are promising. Ryan Webb has a great arm, but his stuff is so lively that he has trouble controlling it. Mujica got lost in the Padres bullpen given some of he other guys they had in there, but struck out 72 and walked six (!!!) in 69.2 innings this year. The deal makes sense for both sides, I'd just rather be getting Maybin.
Anyway, here's the nightly open thread. Both the Nets and Isles are playing, and of course there's a zillion college football games on. Talk about whatever, enjoy.