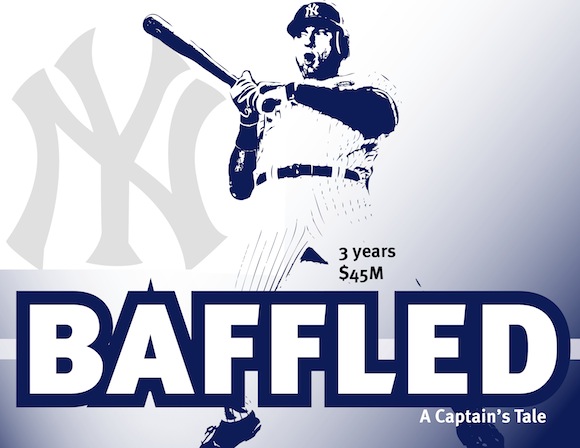 For better or worse, Derek Jeter has dominated the Yankee headlines over the past few days, and he has broken the fanbase into two groups. Some feel Jeter is an aging short stop asking for too much; others feel the Yanks should pay their captain what he wants. Either way, Derek probably isn't going anywhere, but this one won't be resolved any time soon.
To, um, commemorate the goings-on, long-time RAB reader Tyler Wilkinson sent us the graphic you see here. Interpret it as you will, and check out more from Tyler on Twitter. It might make for interesting discussions during the Hot Stove League, but I think we'll feel better when Jeter and the Yanks agree to terms.
Anyway, here's your open thread for the evening. In local action, the Nets visit the Celtics, and the Knicks wrap up a home-and-home set against the Bobcats in Charlotte. On the ice, the Blue Jackets visit the Islanders while the Devils host the Flames and the Rangers are in Tampa Bay to face the Lightning. If you're with family tonight, enjoy the start of the holiday. We'll be here all weekend.