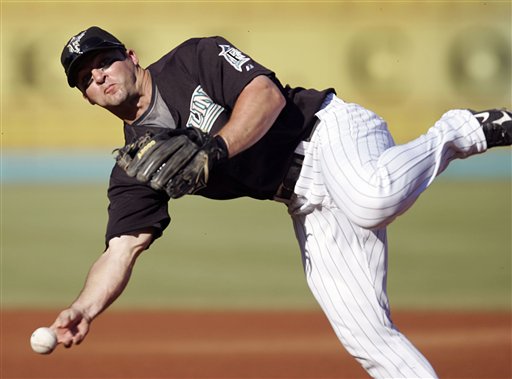 The Marlins have been mighty busy this weekend. They've already traded away the two key pieces they received in the Miguel Cabrera blockbuster, and today we found out that they intend to trade Dan Uggla as well. The second baseman turned down a fat four-year contract offer a week or so ago, so they're trying to get something in return before he leaves as a free agent next offseason. Uggla is just one of nine players to hit 30+ homers in each of the last four years, and is the only middle infielder to do so (the others: Mark Teixeira, Alex Rodriguez, Prince Fielder, Adrian Gonzalez, Ryan Howard, Adam Dunn, Albert Pujols, and Miggy),
Consider this a preemptive strike: no, the Yanks will not go after him. Yes he'd be a perfect fit since he could play second, third, and DH, but they're not going to give up a boatload of prospects for a freakin' super-utility guy likely to make $10M+ in his final year of arbitration. It would work in a vacuum, but the cost far exceeds the most likely outcome. Just forget about it.
Anyway, here's tonight's open thread. The late MNF games should be entertaining enough, it features the Patriots at the Steelers. The Knicks are in action as well. Talk about whatever, just be cool.