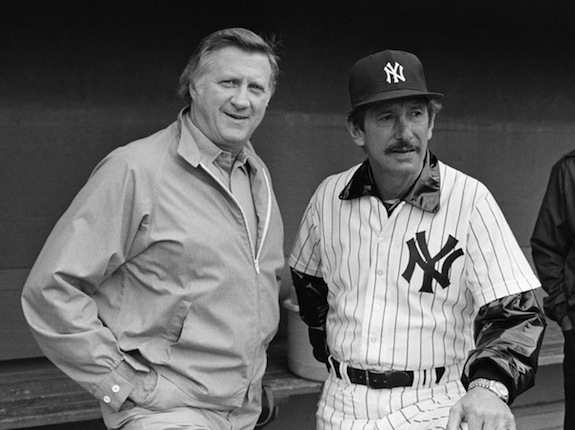 Even in death, George Steinbrenner and Billy Martin remain linked. The two headline a list of 12 individuals under consideration for enshrinement in the Hall of Fame as part of the Expansion Era ballot in front of the veterans committee this year. Results of the voting will be announced during the Winter Meetings on December 6 at 10 a.m.
To gain entrance into Cooperstown, candidates must receive votes on at least 75 percent of the 16 ballots casts, and George and Billy join ten other former players on this year's slate. Also up for consideration are former players Vida Blue, Dave Concepcion, Steve Garvey, Ron Guidry, Tommy John, Al Oliver, Ted Simmons and Rusty Staub; and executives Pat Gillick and Marvin Miller. Of the 12, only Martin and Steinbrenner are deceased.
The Expansion Era ballot is something of a new creation. To ensure more veterans earn their spots in the Hall, the Hall of Fame's Board of Directors opted this year to split baseball's history into three eras with a three-year cycle. This year, the Expansion Era (1973-present) receives consideration. Next year, Golden Era (1947-1972) baseball folks will get their due, and in 2012, Pre-Integration (1871-1946) candidates will be up for a vote. If the Boss, for instance, isn't elected this year, he won't get another shot until 2013.
"Our continual challenge is to provide a structure to ensure that all candidates who are worthy of consideration have a fair system of evaluation. In identifying candidates by era, as opposed to by category, the Board feels this change will allow for an equal review of all eligible candidates, while maintaining the high standards of earning election," Jane Forbes Cook, chair of the Hall, said.
Those who will consider the ballot include: Hall of Fame members Johnny Bench, Whitey Herzog, Eddie Murray, Jim Palmer, Tony Perez, Frank Robinson, Ryne Sandberg and Ozzie Smith; major league executives Bill Giles (Phillies), David Glass (Royals), Andy MacPhail (Orioles) and Jerry Reinsdorf (White Sox); and veteran media members Bob Elliott (Toronto Sun), Tim Kurkjian (ESPN), Ross Newhan (retired, Los Angeles Times) and Tom Verducci (Sports Illustrated).
Interestingly, the Baseball Writers' Association of America put forward the ballot, which means that many of the people who relied on George Steinbrenner for copy consider him at least worthy of consideration. For us, this isn't the first time we've pondered Steinbrenner's role in baseball history and the merits of his career. In fact, on the week of his 80th birthday and shortly before his passing, I explored this very topic. Both Wallace Matthews and Filip Bondy said the Boss should be in Cooperstown. I wasn't as sure:
When George's health started to slip away, the tributes came out in full. Matthews, who doesn't want to limit the Hall of Fame to only those who were "exemplary human beings," says Steinbrenner should be in Cooperstown because of his contributions to the game. The Yankees, through their spending, have radically changed baseball economics, and even when the game off the field shakes down to 29 clubs facing off against George's dollars, Steinbrenner's clubs have kept on winning. TV deals are more lucrative because of him, and record-breaking crowds flock to see the Yanks both at home and on the road. What's good for baseball is, after all, good for baseball.

But George isn't an easy man to pigeonhole. He violated campaign finance laws and was suspended after he sent a private investigatory to spy on Winfield. He was a cranky and temperamental owner whose need to have his finger stirring the pot probably cost the Yankees more championships during his reign than they won. Some would say he ruined the game with his spending.
The question, I said then, remained open-ended, and four months after his death, it's still as muddied. He changed baseball, some would say for the better, others for the worse. But it might boil down to one simple fact: If Marvin Miller isn't elected to the Hall of Fame, neither should George Steinbrenner. If Miller gets in, all bets are off.