As we get closer to the end of our annual What Went Right/What Went Wrong season review, let's shift our focus away from the big league team for just a bit.
The life blood of just about any team, in any sport really, is its ability to develop players from within. Homegrown players are substantially cheaper and in almost all cases are younger and closer to their primes than free agents, but the Yankees got away from that for a while. From about 2002 through 2007 the team started to rely on big name free agents to fill holes on the major league roster, sacrificing present depth by trading away prospects and future depth by forfeiting draft picks as free agent compensation. As a result, the Yankees were often left scrambling to find stop gap solutions for the inevitable injury or poor performance.
Brian Cashman started to change that way of thinking once he signing his new contract and got autonomy before the 2008 system, focusing more on the team's farm system and their ability to produce quality players all by themselves. That didn't mean they were going to stop signing free agents, but they weren't going to rely on them as much. He and the team took a hit in 2008, missing the postseason for the first time in more than a decade, but the reward was a World Championship the very next season. Now three years into Cashman's build from within plan, the farm system is starting to bear some seriously good fruit.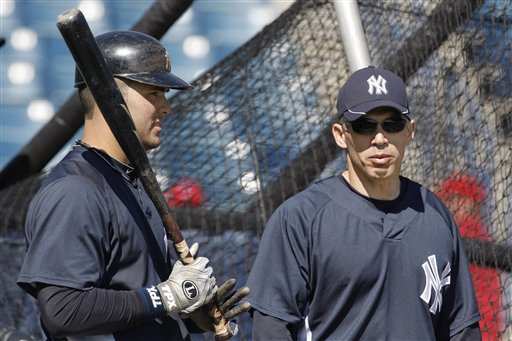 For much of the year it appeared as though top prospect Jesus Montero had finally met his match in Triple-A. Older pitchers refused to challenge him with fastballs until he proved he could hit offspeed stuff, and as a result he started off very slowly, with a modest .312 wOBA through the season's first three month. He was even benched for failing to run out a ground ball in May. There were legitimate reasons to be concerned about the 20-year-old"s development, but Montero answered those questions and then some in the second half.
Nearly traded to Seattle in a potential Cliff Lee deal, Montero put up a monster .433 wOBA from July 1st on, hitting 15 homers in just 223 plate appearances. That nearly matched his 2009 total of 17 homers, which took 379 plate appearances. Despite the slow start, the still just 20-year-old catcher set career highs in triples (three), homers (21), and unintentional walks (44), though he did set a new career high in strikeouts as well. As disappointing as the first half was, in the end it's a good thing. Montero had never faced any kind of adversity in his career, and this season he showed that he could deal with the struggles, make adjustments, and thrive. That's exactly what you want to see out of your top prospects, the overall numbers are just gravy.
On the pitching side of things, two of the organization's most promising arms returned from injury and didn't miss a beat, dominating really in a way that even they hadn't yet. Left-hander Manny Banuelos had an appendectomy in Spring Training and didn't debut until June 21st, but he finished the season with Double-A Trenton as a 19-year-old, pitching to a 2.38 FIP in 64.2 regular season innings before going to the Arizona Fall League and drawing rave reviews. Righty Dellin Betances returned from elbow surgery on June 10th and pitched to a 2.19 FIP the rest of the way. His 85.1 innings were the second most of his career, and they featured a stout 108-22 K/BB ratio.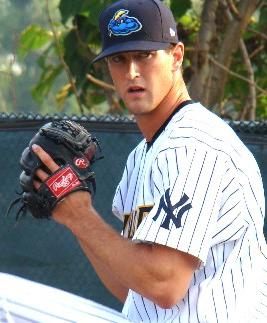 Andrew Brackman, the third member of The Killer B's, followed up his disastrous 2009 campaign with a breakout 2010. The 2007 first rounder finally found his control two years out from Tommy John surgery and reached Double-A, pitching to a 3.23 FIP in a career high 140.2 innings. His walk rate dropped from one every 6.6 batters faces to one every 15.5 batters faced while his strikeout rate remained an impressive 8.1 per nine innings. Brackman's put himself in position for a 2011 call up to the big leagues.
On the offensive side of the ball, third baseman Brandon Laird led the way in terms of breakouts. He took home Double-A Eastern League MVP honors with a .371 wOBA, then moved up to Triple-A late in the year as a reward. Second baseman David Adams was right behind Laird in the breakout department, though his season ended prematurely due to a broke ankle. He was wOBA'ing .392 through 173 plate appearances before suffering the injury trying to break up a double play. Gary Sanchez made his pro debut and put up a .364 wOBA as a 17-year-old, leading the rookie level Gulf Coast League in basically every significant offensive category despite being promoted with three weeks left in the season. Austin Romine wore down during his first full season as an everyday catcher, but he still set career highs with 31 doubles and 36 unintentional walks.
While those are the headliners, what shouldn't be forgotten is the amount of depth the Yanks have accumulated, especially on the mound. Adam Warren reached Double-A a year after being drafted and put up a 2.66 FIP in 135.1 total innings. David Phelps had a 2.65 FIP in 158.2 IP and reached Triple-A. Ivan Nova put together a 3.54 FIP in Triple-A before coming to the big leagues. Lance Pendleton (3.93 FIP), Shaeffer Hall (2.96), and Graham Stoneburner (2.73) all deserve to be mentioned as well.  Oh yeah, and then there's Hector Noesi, who climbed from High-A Tampa to Triple-A Scranton, posting a 2.80 FIP in a system leading 160.1 IP. All he did was represent the organization at the Future's Game.
Generally unsung players like righty Craig Heyer (2.27 FIP in 92 IP), first/third baseman Rob Lyerly (.351 wOBA), and jack-of-all-trades Kevin Mahoney (.402 wOBA at four different levels) put themselves on the map with big years. Toolsy outfielder Melky Mesa finally started to turn those tools into production, winning High-A Florida State League MVP honors thanks to a .378 wOBA. That performance earned him a spot on the 40-man roster after the season. Bradley Suttle recovered from a year-long hiatus due to a pair of shoulder surgeries to post a .348 wOBA. Slade Heathcott (.331 wOBA) and J.R. Murphy (.320 wOBA) held their own as teenagers making their full season debut. It's easy to forget about Corban Joseph (.367 wOBA in the FSL before moving up to Double-A at age 21) and Brett Marshall (2.70 FIP in 84 IP after coming back from Tommy John surgery), two of the system's highest upside players.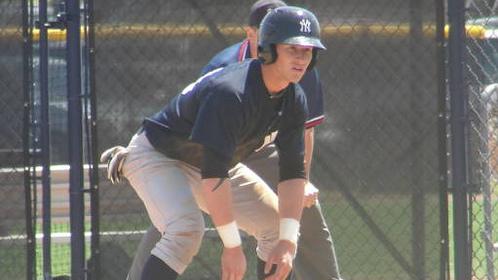 A few of the players that did stumble a bit were quickly moved in trades before their stock fell any further. Mark Melancon's usually strong control had deserted him, and he was sporting a 4.11 FIP in Triple-A (after years of being in the 2.00's) when he was sent to Houston in the Lance Berkman trade. Zach McAllister's inability to miss bats (5.98 K/9)and sudden case of homeritis (1.29 HR/9) earned him a trip to Cleveland as the player to be named in the Austin Kearns deal. His FIP at the time of the trade sat at 4.73, and his previous career worst was 3.26, set two seasons ago. Jeremy Bleich was awful (4.82 FIP) before undergoing season ending shoulder surgery and Chris Garcia's season lasted one start before he needed a second Tommy John surgery. That's pretty much the extent of the major negatives from the 2010 season.
I hope everyone understands just how much of a success this year was for the Yankees' farm system. The number of players that stepped up and improved far exceeded the number of those that took a step back or got hurt. It's the closest thing to a best case scenario that I can remember, and as a result the Yanks now legitimately have a top ten farm system after being ranked in the 20's last offseason. There's depth in all forms; impact players both on the mound and in the field, useful role players and relievers, and plenty of trade fodder. It was a great year on the farm, one that will unquestionably help the Yanks going forward, one way or another.