The Yankees added two high priced free agent starters last offseason, and while CC Sabathia has been worth every penny of his contract so far, the same can't be said of A.J. Burnett. He was good enough during his first year in pinstripes and nothing short of brilliant in the team's most important game of the 2009 season, but Burnett's follow-up campaign was well below expectations and left a bad taste in everyone's mouth.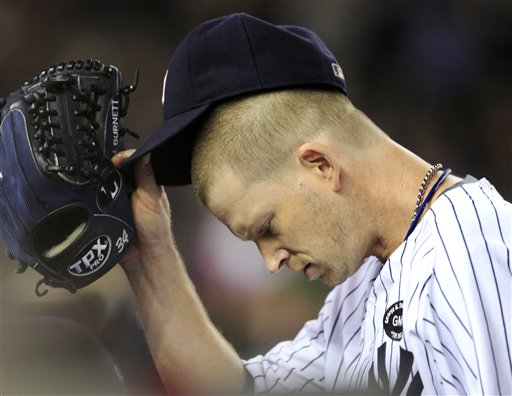 Ironically enough, Burnett's season started in a very good way. Following his first outing of the year, in which he allowed three runs in five innings against the Red Sox, Burnett went through a stretch in which he allowed zero earned runs in three of four starts. His ERA sat at 1.99 through his first five starts of the season (with a sparkly 4-1 record), and after eleven starts he was still sporting a 3.28 ERA while the Yanks were 8-3 with him on the mound. There were some warning signs, however, most notably with A.J.'s strikeout rate. It had dropped to just 6.7 K/9, just about two full strikeouts off from last year's pace. But hey, it was just eleven starts and Burnett was throwing the ball well, we all figured the strikeouts would come eventually.
Unfortunately, it didn't last. Well, the low strikeout rate did, but not the success. In his 12th start of the season Burnett allowed six runs in six innings against the Blue Jays. Six days later he surrendered four runs in six innings to the Orioles, and the next three starts after that resulted in 33 baserunners and 19 runs in just 10.1 innings. Put it all together and Burnett's June was statistically the worst ever by a Yankee starter: five starts, five losses, an 11.35 ERA and an almost unfathomable .471 wOBA against. All of the good work he did in April and May was washed away, and halfway through the season he was sporting a 5.25 ERA and the Yanks were just 8-8 in his starts.
The June collapse coincided with the absence of the now departed pitching coach Dave Eiland, who was away for personal reasons. The narrative practically wrote itself, Burnett would get better once his regular pitching coach returns. And you know what? He did for a while. With Eiland back with the team, A.J. threw 6.2 scoreless innings against the Jays, then limited Oakland to two runs in seven innings next time out. Things seemed to be going well, but after the Rays hung for runs on him in just two innings, Burnett slammed his hand into a clubhouse door out of frustration, cutting it open. He apologized to his teammates and had his next pushed back a few days to deal with the injury, but he then threw 11.1 scoreless innings against the lowly Royals and Indians.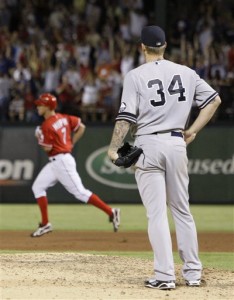 As late as August 1st Burnett had himself a tolerable 4.52 ERA that lined up with his 4.59 FIP, certainly not what the Yankees were expecting out of their Opening Day number two starter but not completely horrific. Well, that's when things got horrific. In his first outing of August, the Jays scored eight runs before Burnett could complete the fifth. The rest of the month featured a 7.80 ERA and yet again five losses in five starts. After the end of July, A.J. pitched to a 6.61 ERA (5.23 FIP) and as hard as it is to believe, the Yankees won just two of his final dozen starts the rest of the season.
Unsurprisingly, Burnett did not make the team's three-man ALDS rotation, and their pounding of the Twins meant his services weren't needed in relief either. He did make the team's ALCS rotation by default, taking the mound in Game Four with the Rangers up two games to one in the series. Burnett actually wasn't terrible in that start, holding the Rangers to just a pair of runs (without the benefit of a ball leaving the infield) in the first five innings. With the tying run on second with two outs in the sixth inning, Joe Girardi had Burnett intentionally walk David Murphy to face Bengie Molina. The first pitch pitch of the encounter was supposed to be low and away but it wound up up and in, and Molina turned on it for a go-ahead three run homer. The damage was done, and instead of walking off the mound feeling good about himself, A.J. went back to the dugout hearing the loudest boos of the season. Rather remarkable considering how the fans treated him in the second half.
The end result of Burnett's season was 33 starts but just 186.2 innings (almost exactly 5.2 IP per start), so he was taxing the bullpen on a regular basis. In fairness, that number is slightly skewed by three starts in which Burnett was forced to exit early due to rain. His 5.26 ERA was easily a career worst, though his 4.83 FIP was merely awful. The 6.99 batters Burnett struck out per nine innings pitched was his worst mark since 2001, and he led the league with 19 hit batters and 37 stolen bases allowed. All told, opposing batters posted a .362 wOBA against the Yanks' $16.5M man, so he basically turned every hitter he faced into the 2010 version of Alex Rodriguez. The total package was worth just 1.3 fWAR, ranking 90th out of the 103 pitchers that threw at least 150 innings in 2010.
The Yankees knew that Burnett was pretty unpredictable when they signed him to that five-year, $82.5M contract last winter, but I don't think anyone expected him to go south this hard, this quickly. The lack of strikeouts is most concerning, since the ability to miss bats was the one thing A.J. has excelled at his entire career. His curveball, which checked in at 16.0 runs above average in 2009 (fourth best in baseball) dropped off to 3.9 runs below average, one of the eleven worst in the game. Whoever replaces Eiland as pitching coach will have the work cut out for them, starting right here with Burnett.