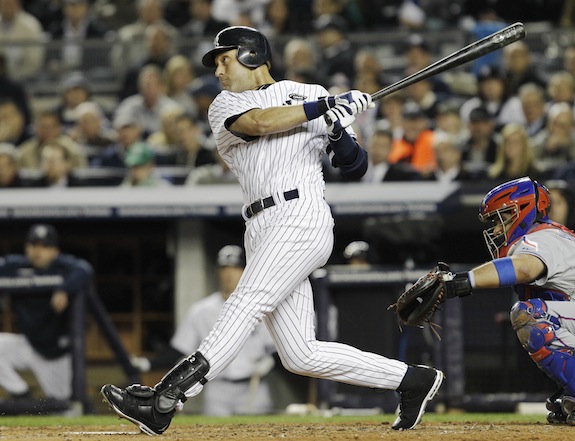 As the Yankees and Derek Jeter dance around their contract negotiations, a certain sense of urgency is lacking. The breaking news, as it were, concerns the twin facts that the Yanks are prepared to pay Jeter more than his play on the field and advancing age would seemingly be worth were he not Derek Jeter and that the two sides expect to sign a deal at some point this winter. How shocking.
So far, we've heard lots of opining about Jeter, and it comes across as noise. His free agency is a storyline this off-season because it's the first time he's hit the open market, but while other teams could theoretically be interested in signing Jeter, odds are good he won't even talk to anyone other than the Yankees this winter. He wants to stay in New York, and New York wants him.
Yet, through the noise comes some key tidbits and ideas that deserve some attention. One interesting item of note that got lost behind the Newsday paywall came to us from Ken Davidoff. He writes:
Jeter's agent Casey Close met with Cashman, Yankees president Randy Levine and managing general partner Hal Steinbrenner, earlier this week in Tampa. Indications are that the Yankees didn't extend a formal offer to Jeter, but that the two sides are far apart – and yet they understand that they'll find common ground, somehow. Neither side has a great alternative.
Most of Davidoff's work this summer has gone unread because of Newsday's business decision to hide their content, but his analysis and reporting is often spot-on. We don't know how far apart the two sides are, but it's safe to assume that, at this early stage, both the money and the years aren't lining up. That's a negotiation though, and both sides will get to the right middle point.
As the Yanks negotiation — and I'd put the deal date some time after Thanksgiving — we have heard over the last few weeks what Jeter's deal won't look like. Despite all indications that Jeter wants to step back from the game when his playing career ends, Joel Sherman proposed a massive post-career deal that would bridge any monetary gap. The Yanks would pay Jeter $45 million for three on-field years and include a 25-year, $75-million personal services contract as well. Sherman even found an unnamed AL executive to validate this idea. "It is a no-brainer to me that is how it should be done," his source said. "You don't have to give [Jeter] a fortune of money now. Both sides save face. And you keep him for life."
Buster Olney disagrees with Sherman. He doesn't think the Yankees are keen on writing Jeter a blank check. In an Insider-only post last week, Olney noted how the organization does not "feel obligated to pay Jeter the way that they paid [Alex] Rodriguez [in 2007]; rather, they are intent on not repeating the mistake of investing huge dollars in an aging player." Jeter is very popular now, but the franchise and the player will both be able to move on when the time is right.
Jayson Stark further buries Sherman's idea. He writes, "Early indications are that the Yankees aren't interested. When Jeter's deal gets done one of these weeks, says one baseball man who spoke with them, it will be 'a baseball contract. Period.'"
In terms of Jeter's post-career relationship with the team, it will be a strong one. While Ken Rosenthal wondered if the Yanks were going to squeeze their captain, Richard Sandomir presents a more nuanced view. In The Times yesterday, Sandomir explores how Jeter's value is tied into the Yanks and how the club's image rests, in part, with Jeter. As MLB consultant Vince Gennaro said to Sandomir, "In reality, his value as a brand-builder will grow long after his skills diminish."
The Yankees and Jeter will close that gap soon, and Jeter will be overpaid. Some will wring their hands; others will cheer that the captain is back and handsomely rewarded. As far as the bottom line goes, both sides will walk away happy.
Photo Credit: AP Photo/Kathy Willens