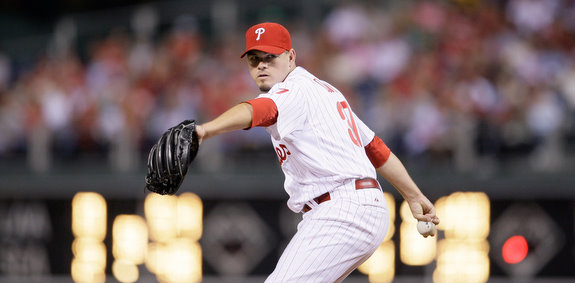 With the Yankees still mired in a never-ending search for quality bullpen help, one name on the free agent list caught my eye the other day and I'm just now getting around to writing about him: Chad Durbin. He and the Phillies tried to work out a deal earlier in the offseason but they just couldn't get it done, and eventually the team declined to offer him arbitration as a Type-B free agent who earned $2.125M in 2010.
The right-hander ran three-fifths of the AL Central circuit earlier in his career, bouncing from the Royals to the Indians to the Twins with a brief stop in Arizona mixed in along the way. It wasn't until he signed with a Phillies before the 2008 season as a non-tendered player that Durbin actually started to experience some sustained success. They put an end to his days as a starter, using him exclusively in relief for the first time in his career.
Durbin's first season as a reliever went very well. He struck out just 6.47 batters per nine innings but made up for by limiting walks (2.87 uIBB/9) and getting some ground balls (45.6%). His FIP was a rock solid 3.77 in 87.2 innings, third most thrown among big league relievers, and Charlie Manuel certainly went to Durbin in big spots: his 1.47 leverage index when entering the game was one of the highest in baseball among non-closers. And, of course, the Phillies won the World Series that year, which I'm sure is one of his career highlights.
Unfortunately Durbin took a pretty significant step back in 2009, unintentionally walking 5.81 batters per nine innings and getting a grounder just 39.5% of the time. He did up his strikeout rate to 8.01 per nine, but his 5.14 FIP in 69.2 innings was below replacement level. Durbin did miss more than two weeks with a strained lat, so maybe that's to blame. The good news is that he bounced back rather well in 2010, striking out 8.26 per nine, walking 3.28 per nine unintentionally, and generating 42.4% ground balls. His 3.97 FIP was the second best of his career, though the 68.2 innings he threw were even less than he contributed in 2009. Blame that on a strained hamstring that required a three-week stint on the disabled list.
So going forward, who is the real Durbin, the 2008, 2009, or 2010 version? It's probably a combination of all three, really. The horrible walk rate in '09 is clearly an outlier compared to the rest of his career, so I feel confident in saying that won't be an issue going forward. His strikeout rate has steadily improved throughout his career, so his 7.49 K/9 over the last three seasons is likely his true talent level, ditto the 42.8% ground balls. Homeruns haven't been much of a problem (0.80 HR/9 since 2008 with half his games coming in Citizens Bank Park) and even though he's been hurt the last two years, he's still provided a healthy amount of innings. Among pure relievers, only Carlos Marmol has thrown more over the last three seasons.
At 33 years old, Durbin is what he is, and that's a pretty solid middle relief option. He's not the sexy name setup man, but he's a viable big league reliever that can absolutely make the Yankees' bullpen deeper and more effective. And for what it's worth, he's spent the last three years playing in pressure games, going to World Series twice, so he knows what that kind of atmosphere is all about. If nothing else, it's a little comforting.
The problem is probably cost, however. Look at the deals given to guys like Jesse Crain, Matt Guerrier, Pedro Feliciano, and Randy Choate this offseason, all of whom are at that 3.75ish FIP level over the last three years, if not worse. There's really no reason to believe that Durbin will take anything less than a two-year contract. That's a going rate for decent relief help this year, and at 33 years old this is probably his one and only chance at a significant free agent pay day. I'd be all for signing Durbin to beef up the relief corps, but the price has to be right.