The Dodgers catching situation had a bit of a Yankee flavor to it this winter. It started when the two teams discussed a Francisco Cervelli for Russell Martin swap on the eve of the non-tender deadline. That didn't work, so the Dodgers let Martin walk. Immediately afterwards they signed Rod Barajas to a one-year, $3.25 million contract. This week the Yankees ended up with Martin at one years and four million, with the opportunity to retain him next year. Who came out ahead here?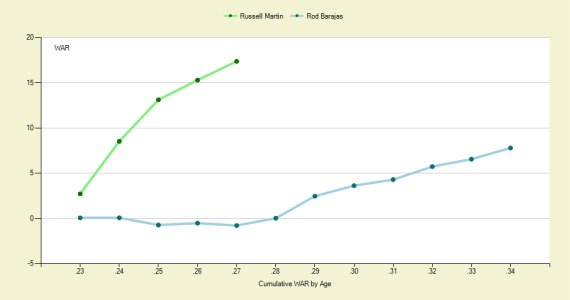 Make sure to check out the other WAR comparisons. Also note that Martin's worst year was only slightly worse than Barajas's best year — and Barajas's best year came in 2005. With a mere $750,000 difference in salary, it appears that the Dodgers got hosed — or hosed themselves.
(Though, in fairness, Martin did turn down a $4.2 million contract from the Dodgers. Still, it's tough to imagine the Dodgers being worse off by tendering Martin a contract and paying him a bit more, than having Barajas and his poor production.)
Then come the backups. Had the trade gone through the Dodgers presumably would have had Cervelli backing up Barajas. Now they have former Yankee farm hand Dioner Navarro backing up Barajas, while the Yankees have Cervelli backing up Martin. Here's a telling WAR graph for these guys.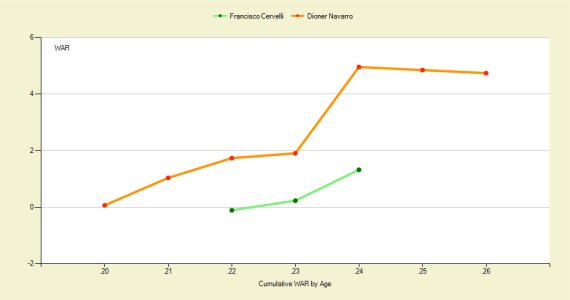 Yes, Navarro has been better, but not only has his graph leveled off in the past two years, it has actually declined slightly. Navarro is two years older than Cervelli and has been in the league four more years, but has produced just 3.4 more WAR. In two more years I wouldn't at all be surprised to see Cervelli pass Navarro in WAR, even though the latter has that four-year head start.
This wasn't a one-on-one deal, so we can't say that the Yankees won. But given the way the Dodgers' catching situation played out, I'll take the Yanks', even minus Montero, any day.