As the Yankees continue to search for pitching, plenty of RAB readers have come up with suggestions of their own. Some are worth exploring and we end up posting about them, others simply aren't worth the time (Pedro Martinez? come on people). There's been a rash of Jeremy Bonderman and Takashi Saito comments and mailbag questions of late, so I figured it was time to dive in and see what we could come up it. As it turns out, not much…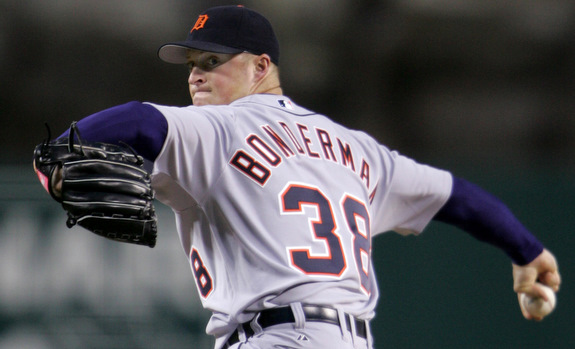 Jeremy Bonderman
It feels like Bonderman has been around forever, and he kinda has, but he's still just 28 years old. That's what happens when you're thrown to the wolves at age 20, going to the mound for 28 starts (and five relief appearances) that result in a 5.56 ERA (4.69 FIP) for a Tigers team that lost 119 games in 2003. Bonderman managed to survive that disaster and actually developed quite nicely, seeing his FIP drop from 4.69 in 2003 to 4.27 in 2004 to 3.90 in 2005 to 3.29 in 2006. As a 23-year-old in '06, he struck out 8.5 batters per nine innings (2.4 BB/9 removing intentional walks) and got a ground ball 48.2% of the time, resulting in a 6.1 fWAR season. Before his 24th birthday, Bonderman had a ridiculous 749 innings to his credit.
All those innings started to take a toll on Bonderman after that season, unfortunately. He missed most of May 2007 with blister issues and finished the season on the shelf with cartilage damage in his elbow. He still managed a 4.19 FIP in 174.1 innings that season, but it was a disappointment coming off his 2006 season. The next year saw Bonderman's season end after a dozen starts due to shoulder surgery. He started the 2009 season on the disabled list as he was recovering, made one start in June, then went immediately back on the DL after re-aggravating the injury.
Bonderman managed to make some relief appearances that September, and other than a sore rib cage in late-August (no DL trip required), he was perfectly healthy in 2010. His performance, like his velocity, had dropped off considerably. Bonderman was sitting right at 90 mph (even lower late in the season), down from the 93.3 he averaged at his peak. His strikeout rate was down to just 5.89 K/9, his third consecutive season with a below average swing-and-miss rate (7.7%). The walks and ground ball rate declined as well, though 3.1 BB/9 (minus intentionals) and 44.7% grounders is still plenty fine.
It would be foolish to count on Bonderman recovering the magic from 2004 through 2006, when he accumulated just 0.1 fewer fWAR than CC Sabathia. He's just been hit by too many injuries since then. I can't see how a team would give Bonderman anything more than a low base salary (like, $1M or less) with incentives given his recent performance and injury history. I wouldn't even want the Yankees to go that far, to be honest. There's just so much risk there, if anything I'd give him a minor league contract and tell him to show what he's got in Spring Training. I suspect someone out there will give him a guaranteed contract though.
Takashi Saito
Saito's worst season in the big leagues was his 2009 campaign with the Red Sox, when he set new career worsts in K/9 (8.41), BB/9 (4.04), HR/9 (0.97), ground ball rate (30.6%), swinging strike rate (8.7%), FIP (4.25), xFIP (4.86), and a whole bunch of other stuff that measures underlying performance. Many will use that as ammo to claim that he can't hack it in the AL East, but we can't ignore the sprained elbow ligament he was recovering from. Saito was one of the first to undergo the platelet-rich plasma treatment, which he had late in the 2008 season.
Aside from the one season with the Sox, Saito's been a certifiable beast in the majors. He's struck out 11.6 batters per nine innings, walked just 2.6 unintentionally, and generated a ground ball more than 42% of the time. If we take out his rookie season, his ground ball rate jumps to 45.4%. On the surface he appears to be a great bullpen option, but the 40-year-old right-hander finished the 2010 season on the shelf with a bum shoulder that kept him off Atlanta's postseason roster. That's a huge question mark, and will probably prevent him from finding a guaranteed big league contract this winter. If he's willing to take a minor league, prove yourself in Spring Training kind of contract, I'm all for it. I just wouldn't expect much at this stage of his career.
* * *
The Yanks have a definitely need for a back-of-the-rotation starter at the moment, but Bonderman carries too much risk. They need sure innings, something the former Tiger can't give them. Saito's an interesting bullpen option but his recent shoulder trouble makes me extremely skeptical. Both guys are damaged goods and reflective of the market, but the Yankees aren't this desperate yet. Toss both into the maybe pile.