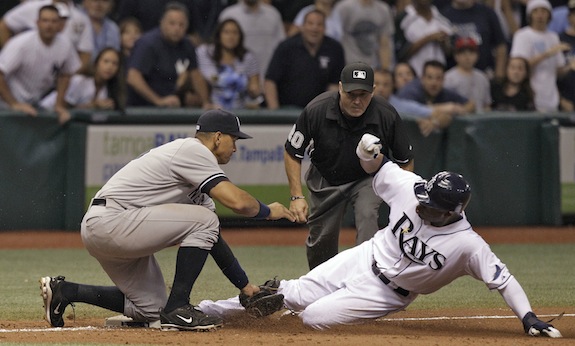 Update (12/9, 12:58 a.m.): The Boston Red Sox are on the verge of signing Carl Crawford to a seven-year, $142-million contract, Peter Abraham of the Boston Globe and Ken Rosenthal are reporting right now. In pure non-inflation-adjusted dollars, the deal makes Carl Crawford the highest paid outfield ever, and the big-market Red Sox have spent the dollars they had coming off the books this year.
The Sox, clear off-season winners so far, had long been a likely landing spot for Crawford, but after acquiring Adrian Gonzalez and locking him up long term, many assumed the Sox would be out. But Theo Epstein and Co. know they have a market advantage and knew they had the dollars to spend. So spend it they did. For $300 million in long-term deals plus three prospects, the Red Sox have sealed the holes left by the departures of Adrian Beltre and Victor Martinez and have added two potent left-handed bats.
For the Yankees, this move will, of course, raise some eyebrows and perhaps intensify their pursuit of left-handed pitching. At one point today, it appeared as though Crawford would emerge as a Yankee target. The club had the payroll space to afford him, and it seemed as though Yankee brass would consider signing Crawford in order to flip Brett Gardner, Nick Swisher or Curtis Granderson in the event that Cliff Lee signs elsewhere. It is not to be. The Bombers, though, never even made an offer, according to one report.
In fact, it now appears as though the Yanks' interest was purely a negotiating tactic. They talked to Crawford to drive up his price, and now Ken Rosenthal says that Boston did the same with Cliff Lee. The Red Sox, says the Fox Sports reporter, made Lee a seven-year offer at a lower salary than he would take in order to force the Yankees to pay more. The Yanks' interest in Crawford over the last 24 hours clearly raised some eyebrows in New England.
Meanwhile, a deal of this magnitude surely sends more shockwaves through an already-inflated market. Crawford's deal tops Jayson Werth's by $16 million over the same period of time, and Lee stands to make just as much as Crawford, if not more, over a shorter period of time.
In the near time, Yankee fans are sure to wring their hands over this. Does it become more imperative to land Cliff Lee? Perhaps a little, but it shouldn't force the Yanks to pay even more. At most, it will make the Yanks intensify their efforts at finding another lefty out of the bullpen and could cause them to apply more pressure on Andy Pettitte to return. "It's not going to change the way we allocate our money," Brian Cashman said this evening.
The question being bandied about right now though concerns this contract. Is it a good one? Crawford is coming off of his age 28 season, which was his best, and is primed to cash in during his peak seasons. He's a career .296/.337/.444 hitter with a 107 career OPS+. He's never hit more than 19 home runs but is good for around 50 stolen bases a year. He also plays a premiere left field, but his defensive impact will be negated a bit by the Green Monster. (Check out Baseball Musings for more on how Crawford and his speed will decline with age.)
It's certainly not a deal I would have wanted the Yanks to dole out, but I can see why the Red Sox did. It's a fine one in this market, and it reinforces what we already knew: The 2011 Boston Red Sox will be a top team in the AL East. Meanwhile, the Los Angeles Angels of Anaheim won't get their number one off-season target, and the Tampa Bay Rays have gotten weaker. That's the way the cookie crumbles.