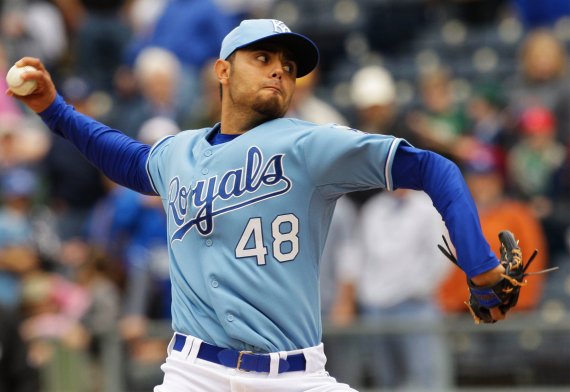 Perhaps we'd better start from the beginning.
Trade deadline 2010. The Rangers acquire Cliff Lee and the Angels acquire Dan Haren. The Yankees had varying degrees of interest in both, and both ended up elsewhere. Clearly they were going to look wherever possible for ways to upgrade the team. On July 25th SI.com's Jon Heyman reported that the Yankees "made a big proposal for Royals closer Joakim Soria." That's it. There was no mention of names involved in the proposal. Just one vague statement.
Two days later, in the sidebar of a trade deadline column, Jayson Stark expanded a bit. "The Yankees just made another run at Soria, as first reported by SI.com — even dangling Jesus Montero." Is this Stark adding a bit of reporting? Is he speculating? Who did he talk to that mentioned Montero's name? And, most importantly, if this was in fact the case why wasn't it a more prominent item in the column? Or maybe it's just a matter of wording. After all, Montero's name coming up in conversation, or even being dangled, is quite a bit different than him being offered in a trade.
(This is along the lines of a story this morning, where the headline didn't reflect the content. The game of telephone continued from there.)
Once Cliff Lee went to Philadelphia and especially once Zack Greinke went to Milwaukee, it was inevitable that we'd hear some sort of connection between the Yankees and Royals involving Soria. The Royals have said that they intend to keep their closer, but that won't stop the rumor mill from turning. It turns out that Soria himself has restarted it. MLB Trade Rumors links to an article that quotes Soria regarding his no-trade clause. While he can block trades to the Yankees, Red Sox, Tigers, Phillies, Cardinals, and Cubs, only one of those names came up in conversation.
"I didn't put it there, my agent did, as a strategy," Soria said. "But if the Royals decide to trade me to New York I would gladly go to play with the Yankees or any other team… I repeat, I would not block a trade to the Yankees. I like to play baseball and I would play with any team."
This is clearly going to raise some eyebrows, but I wouldn't make much of it. There are a few reasons to not take seriously any of this Soria talk at all.
Regarding the summer 2010 rumor: If Cashman did offer Montero for Soria, he should be relieved of his duties. The same goes for Dayton Moore if he refused.
Regarding acquiring Soria now: Why not just sign Rafael Soriano at that point? Soria is under contract for four more years at $26.75 million. It would probably take another $15 or so million to land Soriano, and it would cost the 31st pick in the draft. But the Royals clearly won't let Soria go for cheap. It's probably better to keep the prospects who are closer to helping and spend the extra money, something the Yankees can do with ease.
We constantly see the Yankees connected to every available high-profile player. It was determined the minute Soria became a star that he'd eventually be mentioned as a Yankees target. But given what we know, there's no reason to believe any of it. Maybe Montero's name did come up in a discussion regarding Soria. If that happened, I doubt the conversation lasted long. The Yankees might want Soria, but the Royals also appear to want a bit much for him. I wouldn't expect this one to move, despite the rumors we'll hear every July and December from now until Soria's free agency.