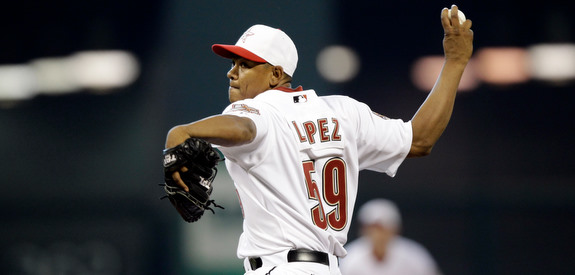 Bernie asks: Saw your tweet on Wilton Lopez and thought it might be a good idea for someone to put together a list of players that were drafted or signed by the Yankees but are currently enjoying success with another MLB team.
Bernie's referring to this tweet, when I said I had no idea that Lopez, the great setup man for the Astros, was the same Wilton Lopez that pitched in the Yankees' minor league system back in 2004. He actually retired after that year, then talked the Yankees into releasing him off the restricted list a few years later. Lopez then signed with the Padres and spent two years in their minor league system before being claimed off waivers by Houston in April of 2009. His 2010 season featured a 6.72 K/9 with a 55.7% ground ball rate and just four unintentional walks in 67 innings (0.53 uIBB/9), leading to a 2.96 ERA. With Matt Lindstrom gone, Lopez is expected to be Brandon Lyon's primary setup man next season.
The other obvious player to mention is John Axford, who will start the 2011 season much like he finished the 2010 season: as Milwaukee's closer. The Yanks signed him as an undrafted free agent after the 2006 draft and used him as a classic organizational arm the next year, assigning him to whichever affiliate needed a fresh arm on a given night. Axford pitched for Triple-A Scranton, High-A Tampa, Low-A Charleston, and Short Season Staten Island in 2007, striking out 9.6 batters per nine but walking 45 in 63 innings. He was released after the season, hooking on with the Brewers for 2008. He spent that year in the minors, and after the season Milwaukee tinkered with his mechanics, most notably raising his arm angle. That led to some increased velocity and earned him a September call-up in 2009. Axford established himself this past season with an 11.79 K/9 and a 3.72 uIBB/9 (2.48 ERA), usurping Trevor Hoffman as closer.
Carlos Monasterios, who the Yankees signed as an international free agent back in 2005, threw 88.1 innings with the Dodgers this past season, striking out just 5.30 batters per nine and unintentionally walking 2.64 (4.38 ERA). He was traded to the Phillies in the Bobby Abreu deal, then the Mets selected him in the 2009 Rule 5 Draft before selling him to the Dodgers for what I hope was some kind of profit. Zach Kroenke (2005 fifth rounder) is another Rule 5 guy, but the Diamondbacks worked out a deal to keep him in the organization this past season. He made a very brief big league cameo this September after the team turned him back into a starter in the minors. He'll compete for a job in Spring Training.
The Yankees traded Ramon Ramirez to the Rockies for Shawn Chacon after signing him as an international free agent back in 2003. He's since bounced from the Rockies to the Royals to the Red Sox to the Giants, accumulating a 3.29 ERA in 295.2 big league innings. Manny Acosta was signed as a international free agent back in 1998 before being released in 2003. He caught on the with the Braves, pitched out of their bullpen in parts of three seasons, and finished the 2010 season as one of Jerry Manuel's better relievers. In 39.2 innings with the Mets, Acosta struck out 42 batters and walked 17 unintentionally, leading to a shiny 2.95 ERA.
Randy Flores (yet another reliever) is still around as well; the Yanks drafted him in the ninth round of the 1997 draft before trading him to Texas for Randy Velarde way back in the day. He's enjoyed a moderately successful career as a lefty specialist, mostly with the Cardinals. Shelley Duncan (2001 second rounder) is still trying to make it work out in Cleveland, hitting eleven homers with a .324 wOBA in 259 plate appearances this past season. Matt Carson was the team's fifth round pick in 2002, though he didn't reach the big leagues until 2009, after signing with the Athletics as a minor league free agent. He owns a career .255 wOBA in 105 plate appearances.
Here's a list of some other players that were originally drafted or signed by the Yankees, but went on to have varying degrees of success elsewhere. I probably don't need to mention most of them, but I will anyway (in no particular order): Tyler Clippard, Austin Jackson, Mark Melancon, Juan Rivera, Randy Choate, Jose Tabata, Phil Coke, Ian Kennedy, Cristian Guzman, Alfonso Soriano, Mike Dunn, Jeff Karstens, Melky Cabrera, Joaquin Arias, Dan McCutchen, Jeff Karstens, Marcus Thames, Nick Johnson, and the recently retired Mike Lowell. I'm not counting Hideki Matsui (Japanese vet) or Juan Miranda, and although Jake Westbrook spent some time in the Yanks' farm system, he was originally drafted by the Rockies (came to New York from the Expos in the Hideki Irabu trade). Among the big leaguers that the Yankees drafted but did not sign: Casey Blake, Daniel Bard, Aaron Heilman, Brian Tallet, Chris Davis, Drew Storen, Doug Fister, and Jason Grilli. I don't think Phil Humber counts anymore. I'm sure I missed some players, but I think I hit on all the key ones. Let me know if I'm wrong.