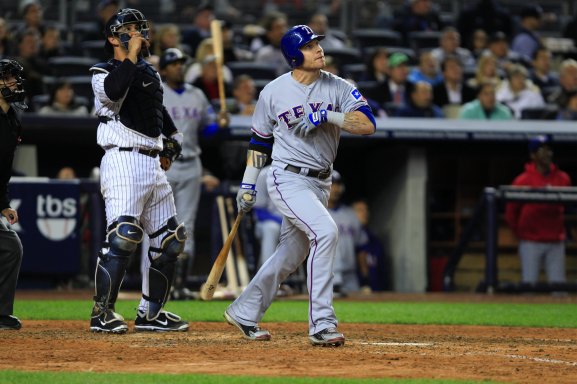 Tucker writes: Josh Hamilton is set to become a free agent after the 2012 season. Could the Rangers missing out on Lee allow them to give Josh an extension? Would he want to hit the market? And most importantly, do the Yankees bite?
The Rangers, apparently, have money. When they acquired Cliff Lee in July most of the league thought it was a half-season rental. After all, the team was immersed in bankruptcy proceedings at the time. But then they emerged from them and signed an enormous TV deal. While the overall impact of the deal might have been overstated in initial reports, it still will provide the team with ample income for the next decade. They were going to spend a considerable portion of that money on Cliff Lee, so why not repurpose it for their biggest star?
This season Hamilton led the league in fWAR at 8.0 despite having just 571 plate appearances. Had he stayed healthy he could have finished with between 9 and 10 WAR. But that's the problem right there. Hamilton has exactly four years of service time, meaning he's been eligible to play in 648 games. Yet he has only appeared in 468. A few of those have been routine days off, but injuries have been the main culprit. In only one season has he played more than 133 games, and in two of his four seasons he has been at 90 or fewer. His health is no guarantee.
(Seriously, go to baseballinjurytool.com and type in Hamilton's name. Then let your jaw drop when you see his four-year history of just day-to-day injuries.)
Earlier in the year, when an inflamed knee was bothering Hamilton, Will Carroll noted that "it's his body…that is hurting his ability to put that talent on the field." He went on to project Hamilton's future of 100- to 120-game seasons. He did break that in 2010, by a substantial amount when you include the playoffs, but does that mean he can handle it in the future? That's such an enormous question mark right now, and it's a huge part of the reason why we haven't hard much in terms of a long-term contract.
I'm no doctor, so I won't attempt any independent analysis of Hamilton's future health. What I will project is that unless he plays in more than, say, 130 games next year, we won't hear a thing about an extension next off-season either. And if he doesn't break that barrier in 2012, I'm not sure we'll see any kind of mammoth free agency offers for him. That a long way of saying that we won't know much until Hamilton plays the final two years of his obligation to the Rangers. We just can't reasonably project Josh Hamilton's future.
To answer the actual questions here: If I were Hamilton and I played in another 130 games next year, I'd be all about an extension if Texas offered it. That's some security that might not be around in another year. In that way, waiting for free agency could cost him. If he's healthy in 2011 but not 2012 he'll be far less valuable in free agency.
If, however, he's valuable in both 2011 and 2012 and reasonably healthy during that span, I can see the Yanks jumping in there. I wouldn't go nuts bidding for him — the injury history doesn't just go away, and he'll be 32 in his first year with a new team. But if the market is down on him because of those concerns I can see the Yankees setting it.