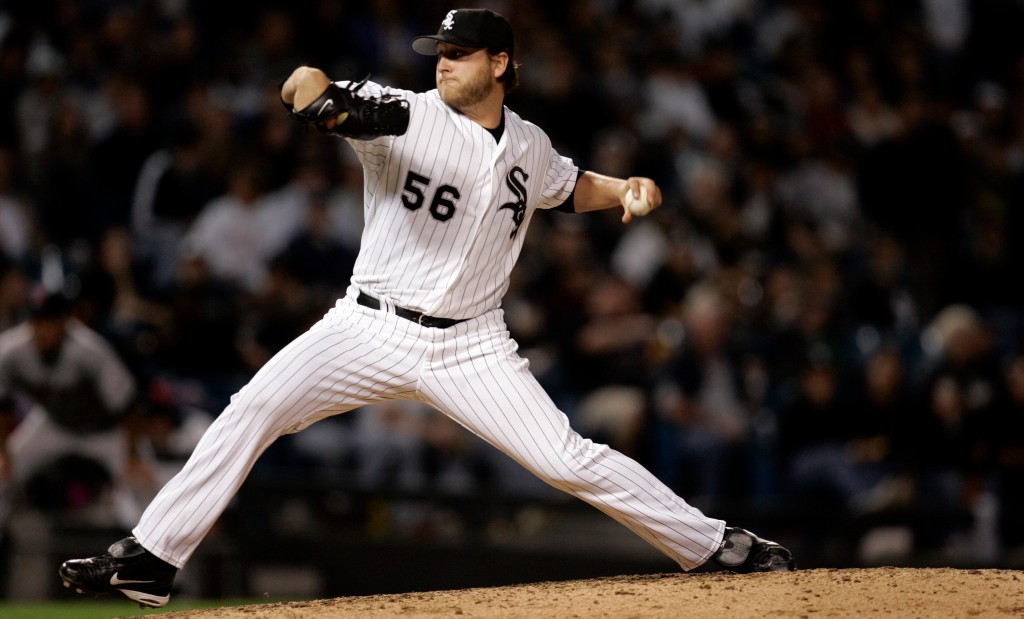 Any chance the Yankees show an interest in Mark Buehrle? He's owed $14 million in the last year of his contract and it sounds like the Sox will listen to offers. What do you think it would take to get him? Given his contract situation, he might be cheaper than some of the other fallback plans.
The ChiSox are willing to listen to offers for their nominal ace according to Nick Cafardo, and they're sure to get a ton of bites. Buehlre's reputation as a top flight pitcher is prevalent throughout the game even though his performance doesn't exactly back it up, but that's not to say he's a bad pitcher. He's obviously quite good. I guess a perfect game, a no hitter, and a World Series championship can cloud people's perception. Crazy, I know.
Buehrle's value lies primarily in his supreme durability. He's made no fewer than 30 starts or thrown fewer than 201 innings in each of the last ten seasons, averaging 33 and 222 during that time, respectively. Simply put, this is a guy a team can count on to take the ball deep into the game every fifth day, and there's a ton of value in that (no fewer than 3.4 fWAR in nine of the last ten years).
Now, the underlying performance is a bit of an issue. Buehrle doesn't strike anyone out, which is always a concern. His strikeout rate dipped to just 4.24 batters per nine innings in 2010, down from 4.43 in 2009, 5.76 in 2008, and just north of 6.00 at his peak. Unsurprisingly, his swing-and-miss rate has been dangerously low at 6.7% over the last five years, well below the ~8.6% league average. For comparison's sake, Sergio Mitre posted an identical 6.7% whiff rate in 2010. Buehrle makes up for the lack of strikeouts by getting a good amount of ground balls but certainly not a ton; his 46.8% grounder rate over the last three seasons is identical to CC Sabathia's and the 24th best in baseball.
If you're not going to strike anyone out or get an excessive amount of ground balls, you can't walk yourself into trouble, and Buehrle excels at avoiding free passes. He's unintentionally walked just 1.9 batters per nine innings pitched in his career, a rate that held true last year, the last three years, and the last five years. Consistency, they name is Buehrle. Concerned about all those miles on his arm catching up to him a la Javy Vazquez? Don't be, Buehrle's sat at 86.4 mph with his fastball over the last four seasons. Yeah, the velocity was never there in the first place. He succeeds by throwing three different fastballs (two-seamer, four-seamer, cutter) and a changeup with great regularity (no fewer than 15.4% of the time each last season).
With the lack a knock-out breaking ball and the inability to get strike three, it's inevitable that any pitcher will get hit around a bit, and Buehrle is no exception. His 708 hits allowed over the last three seasons (.304 BABIP) are the most in baseball, and the 66 homers are the 22nd most during the same time frame. Left-handers have gotten him for a .345 wOBA and righties a .325 wOBA since 2008, both worse than league average. His 4.10 FIP since '08 is just a touch better than Ted Lilly's and A.J. Burnett's, though his 4.38 xFIP lags a bit behind those two. Buehrle is what he is, a true innings eater that is good for solid but unspectacular performances. His reputation as an ace is a bit puzzling, but he's certainly a fine pitcher.
Should the Yankees be interested if they fail to sign Cliff Lee? Sure, they absolutely need two starters this offseason and a pitcher of Buehrle's caliber is a big upgrade over the Ivan Novas of the world. He'll pull down a cool $14M in 2011 before hitting the free agent market, so a trade would have to be viewed as a rental. The Yanks gave up a fringe big leaguer, a top pitching prospect, and a decent relief prospect for Vazquez last year, who was cheaper and coming off a better season than Buehrle is this winter. I don't see why they should give up any more this time around.
We do run into a similar problem with Buehrle as we did with Gavin Floyd, in that it doesn't appear the two teams line up well for a trade. Chicago's in the hunt for a third baseman and relief help, and the Yanks can't really spare either. Brandon Laird and Joba Chamberlain shouldn't be enough for Buehrle, nor would I want the Yanks to surrender Joba for a one year rental. Whether or not a trade can be worked out is not my responsibility, but if the price is right, it certainly makes sense for the Yankees to go after the lefty if they can't land Lee. Hell, even if Lee does sign with the Yanks, Buehrle would be a fine replacement for Andy Pettitte should he call it a career.
Update: Turns out that Buehrle's contract has some trade-related perks. If traded, his 2011 salary is increased to $15M, and what amounts to a $15M option for 2012 automatically vests. That's a problem because Buehrle isn't young and doesn't have much margin for error to begin with, so it really hurts his value and stock as a trade target.