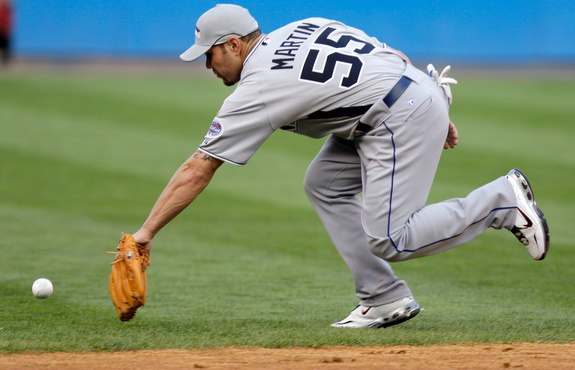 Tom asks: I know Russell Martin was said to be looking for a catching job, as opposed to a bench/utility gig. With that in mind though, if they end up with him and Montero splitting time at catcher, could Martin see some action at third? Depending on circumstances it could be a better option than using the utility man (Pena?) every time A-Rod needs a day, as well as allow him to get more playing time, for example if he and Montero are both playing well.
Like Jorge Posada, Martin was drafted as a second baseman out of a junior college late in the draft (17th round for Martin, 24th for Jorge). He stayed on the infield for one year in the minors before being converted to catcher, again just like Posada. Martin has played third base sparingly since then (that was 2003), just one more game in the minors and a dozen total in the big leagues. I think his ability to be a utility player, even just a guy that fills in at third once in a while, has been overstated a bit this winter. He's not much more of an emergency option at that spot these days, not a guy that could play there on a semi-regular basis.
I do like your idea of using Martin at third and Jesus Montero behind the plate whenever Alex Rodriguez needs a day off, but I think we're being a little unrealistic and perhaps unfair with our expectations. It sounds like a great idea and looks good on paper, but we have to remember that Martin is going to need days off (complete days off) after the absurd workloads he's experienced over the last few seasons. We also have to remember that his experience at the hot corner (especially at the big league level) is very limited, and it could be hazardous (literally) to put him out there. He could misread a hop or not react to a line drive in time, all sorts of stuff, and nobody wants that.
Now that the Yankees have a little extra cash to throw around, I fully expect them to bring in a more qualified bench player at some point this offseason. We've already seen them connected to Jerry Hairston Jr. and Jeff Keppinger just this past week alone, and both of those guys would be a considerable upgrade over Eduamiro Penunez and would allow the Yankees to avoid using Martin on the infield. I'm sure he could do it if the team asked him too, I'm just not convinced it's a wise thing to do on a regular basis.
Like I said, I like the idea in a vacuum, but I'd rather not screw around with Martin and make his life any more difficult than it already is right now. He already has an entirely new pitching staff to learn, not to mention change leagues and cities. Expecting him to play third base even just  once every two or three weeks is probably piling on. I'd much rather see the Yankees just bring in a more qualified utility infielder and let Martin focus on his job behind the dish.