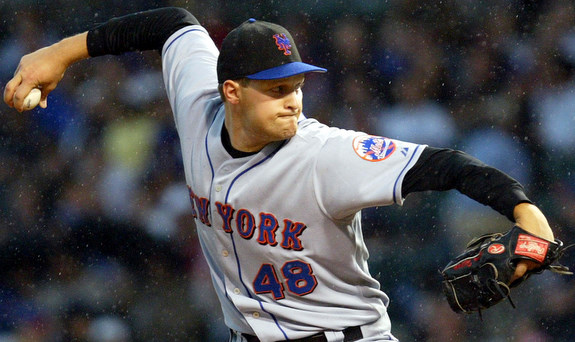 Now that most of the big name free agents are off the board, we're left digging through the list of second and third tier players that could potentially fill a hole on the Yankees' roster until a better alternative comes along. With Pedro Feliciano on board, the back-end of the bullpen is pretty much set. In a perfect world they'd bring in someone for that oh so important eighth inning role just to bump David Robertson and Joba Chamberlain back to the sixth and seventh inning fireman roles, but that guy just isn't available for the right price right now.
So as I was looking through this list of underwhelming free agent relievers over the weekend, something horrible hit me: Aaron Heilman will be a New York Yankee in 2011. I have nothing to base this on other than my gut feeling, but I still don't like it for obvious reasons. It's Aaron frickin' Heilman man, we all watched him pitch across town for all those years. Everyone remembers Yadier Molina in the ninth inning of Game Seven of the 2006 NLCS, and that was just the highest profile meltdown in a career full of them, which is why Mets fan despise the guy. And yet there I was, momentarily convinced that he'll pitch for the Yankees next season. Since he's on my mind, we might as well take look and see if Heilman would be of any actual use to the Yankees in 2011.
Now 32, the right-hander never has gotten the opportunity to start after all those years of complaining about it. Heilman spent this past season in the dreadful Diamondbacks bullpen, where he was one of only two relievers to be above replacement level (0.1 fWAR) while throwing at least 40 innings (Blaine Boyer was the other). That tells you how atrocious their 'pen was, holy cow. It was also the second worst full season of Heilman's career, evidenced by a 6.88 K/9 and 4.47 FIP that were (yep) the second worst of his career. He actually had a drastic reverse platoon split, holding lefties to a .276 wOBA while righties tagged him for a .367 wOBA. It's also the second straight year he's had that problem as well, which is pretty odd.
A fastball-changeup pitcher, Heilman's fastball velocity is still there, comfortably 92-93. He still maintains the 10 mph separation with his changeup and PitchFX says it's still moving as much as it always was, so his stuff is fine from what we can tell. Despite that, his swinging strike rate has dropped for two consecutive seasons now (though still above average at 9.7%) and he generated fewer groundballs than ever (35.6% in 2010, a career low by more 5%). It's worth noting that Heilman has reincorporated his slider back into his repertoire over the last three years after shelving it for a few seasons, so perhaps he needs to scrap it and do with his two best offerings exclusively. Perhaps that will help with the platoon issues. When he's at his best, Heilman is striking out lefties and getting righties to beat the ball into the ground, but over the last two years the strikeouts against southpaws just haven't been there.
Heilman is what he is at this point, but over the last several seasons he's been pigeon-holed into high leverage, late inning work even though he wasn't really qualified to handle it. Maybe a move into the middle innings will help him be more successful, which is the only role the Yankees should even consider him for. Maybe his groundball rate will recover and the platoon issue will correct itself by taking away the slider. It's all guesswork at this point and banking on any of it to actually happen would be foolish.
The Yanks are likely to add a right-handed reliever before pitchers and catchers report, but the current crop of free agents offers little late inning help. Rafael Soriano will require a hefty contract and a draft pick, Grant Balfour just a pick, Jon Rauch is an extreme fly ball pitcher, and Kyle Farnsworth is Kyle Farnsworth. Heilman's only good season in the last three came under current Yankee pitching coach Larry Rothschild with the Cubs in 2009, so maybe he holds the secret for turning Heilman into a usable middle reliever. For now, I'll just hope the Yankees come up with a better alternative and we can go back to laughing at Heilman's misfortunes from afar.