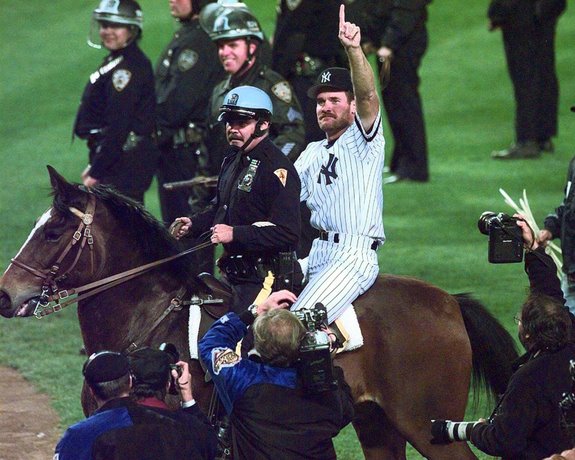 My signature Wade Boggs moment isn't a hit or a homer or a defensive play or anything, it's that right up there. Him riding around the Stadium on the NYPD horse after the Yankees won the 1996 World Series. How could it not be? It was my first World Championship as a fan, and there he was towering over everyone else. It's a scene I'll never ever ever forget.
Boggs did make four All Star teams in five seasons with the Yankees, but he was never anywhere close to the player he was with the Red Sox and understandably so. Did you know that in 1988, Boggs drew 125 walks and struck out just 34 times? That's insane. From 1985 through 1989, he hit .357/.454/.496 with 538 walks and 238 strikeouts. In New York, he hit "just" .313/.396/.407 with 324 walks and 198 strikeouts, but of course he picked up his only World Series ring, so we win. Boggs finished his career back home with the Devil Rays, becoming the only player in baseball history to record his 3,000th hit on a homerun. He was a Hall of Famer in every sense of the term.
Here is your open thread for the evening. The MNF pits the Bears at the Vikings, and that's it. None of the hockey or basketball locals are in action. Use this thread as you see fit, have at it.