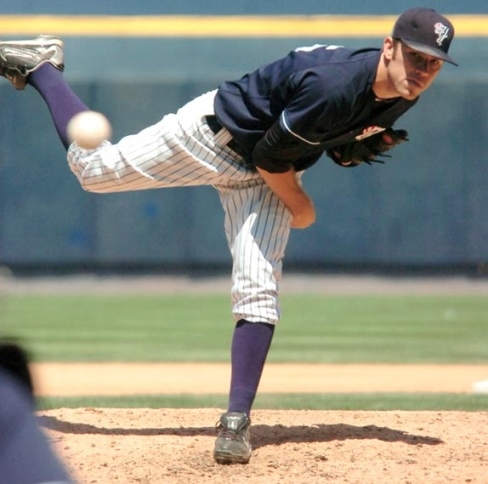 David Phelps | RHP
Background
Raised in the St. Louis suburb of Hazelwood, Phelps attended Hazelwood West High School and starred both on the baseball field and on the basketball court. He was named to the All-Conference Team as both an outfielder and pitcher as a sophomore, and was then named All-Conference, All-Metro Performer, and team captain as a junior and senior. His career with the Wildcats featured a 2.96 ERA with 172 strikeouts in 109.2 innings pitched, and he also set a school record with a 30 inning scoreless streak as a senior. He was also a member of the National Honor Society.
Committed to Notre Dame, Phelps was ranked as the sixth best prospect in Missouri prior to the 2005 draft, though he went undrafted due to the strong college commitment. His older brother Mike was drafted out of Central Missouri State in the 11th round that year by the Cubs. Phelps was a sparsely used reliever in his first season with the Irish (though he did make three mid-week starts), striking out 23 and walking ten in just 26.2 innings (7.09 ERA). After the season he joined the Mat-Su Miners of the Alaska League, striking out 36 with 23 walks in 47.3 innings.
Phelps slid into Notre Dame's rotation as a sophomore and establishing himself as the staff ace with one of the best pitching seasons in school history. He made 15 starts and threw five complete games, striking out 102 batters and walking just 30 in 110 innings (1.88 ERA). He became just the second pitcher in school history to record 100+ strikeouts with a sub-2.00 ERA in a single season, joining Aaron Heilman. As a reward, Phelps was named to the All-Conference First Team and received Academic All-District and Academic All-American honors. He joined the Falmouth Commodores of the Cape Cod League after the season, but shut himself down to rest his arm after making just a pair of starts.
Expected to anchor the rotation again as a junior, Phelps was unable to match the success he had a sophomore, striking out 75 and walking 28 in 93 innings (4.65 ERA). Baseball America ranked him the fifth best prospect in the state of Indiana before the 2008 draft, expecting him to be drafted within the first eight rounds. The Yankees were able to select him in the 14th round with the 440th overall pick, later signing him for a $150,000 bonus, the maximum allowed after the fifth round without MLB's approval.
Pro Career
Assigned to the Short Season Staten Island Yankees shortly after signing, Phelps made 15 starts for the Baby Bombers, making the All Star team after walking 18 batters and striking out 52 in 72.2 innings (3.27 FIP, 2.72 ERA). The Yanks were a tad conservative with Phelps in 2009, sending him to Low-A Charleston to start the season. After he pitched to a 3.41 FIP (2.80 ERA, 90 K, 25 BB) in 112.2 innings with the River Dogs he was promoted to High-A Tampa, where he struck out 32 batters and walked just six in 38.1 innings (2.34 FIP, 1.17 ERA). Phelps led all Yankee farmhands with 151 IP in 2009.
After just seven starts with Tampa to finish off the '09 season, the Yankees sent Phelps to Double-A Trenton to begin 2010 and he just kept on pitching well. In 88.1 innings with the Thunder, he struck out 84 and walked just 23, good for a 2.44 FIP (2.04 ERA). He was promoted to Triple-A Scranton at midseason and again performed well, striking out 57 and walking 13 in 70.1 innings (2.92 FIP, 3.07 ERA). Phelps finished second in system with 158.2 innings this time around. His minor league career features a 7.4 K/9, 2.0 BB/9, 0.5 HR/9, and a 2.96 FIP (2.50 ERA) in 382.1 innings.
Scouting Report
Phelps has come a long way since high school. Once a scrawny kid that would sit in the low-90's on a good day, Phelps has filled out his 6-foot-3 frame (190 lbs.) and now throws his fastball at 93-95 mph consistently. Minor league pitching coordinator Nardi Contreras made some minor adjustments soon after Phelps signed, leading to the improved velocity. He also throws a two-seam fastball right around 90 mph, a good curveball, and both a below average slider and changeup. The curve is the closest thing Phelps has to a strikeout pitch, but it still needs some more improvement. At the moment he's a ground ball pitcher, but that can change if one of the offspeed pitches takes that step forward.
Although his secondary stuff is good but not great, it all plays up because Phelps has very strong control and pounds the bottom of the zone. His delivery is very simply and easily repeated, which bodes well for future command and health. He's already demonstrated the ability to be a workhorse, logging no fewer than 151 innings in each of the last three seasons. Here's a brief clip of Phelp' delivery courtesy of Mike Ashmore, and you can see a few more on his YouTube channel.
2011 Outlook
Phelps will start the season back with Triple-A Scranton and should be among the first call-ups when the Yankees inevitably need a pitcher. He's at a slight disadvantage because he's not on the 40-man after the moment, though he'll have to be added after the 2011 season to avoid exposure to the Rule 5 Draft. If the Yankees don't sign a pitcher and both Sergio Mitre and Ivan Nova have unimpressive Spring Trainings, Phelps has an outside chance at opening the season with the big league team. Very unlikely though.
My Take
Scouting director Damon Oppenheimer has proven to be very skilled at finding undervalued pitchers in the middle-to-late rounds of the draft, and Phelps is just another example of that. He was an absolute steal both in terms of draft round and bonus money, and climbing the ladder that quickly with so many other quality arms around him is pretty impressive. Phelps has already exceeded all possible expectations, and although I remain nothing more than cautiously optimistic because of his lack of a knockout offspeed pitch, he's a quality pitching prospect that could contribute to the big league club either on the mound or as a piece of trade bait very, very soon.