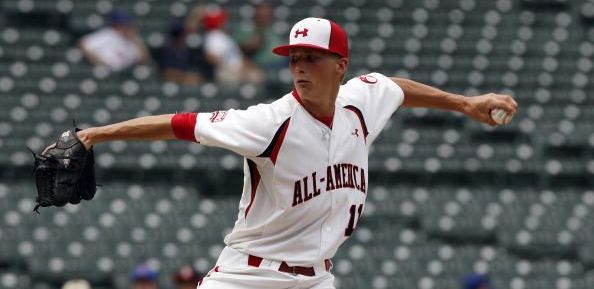 Evan Rutckyj | LHP
Background
Born and raised in Windsor, Ontario, Rutckyj (pronounced Root-ski) did what most Canadians do as a kid and played hockey, getting drafted by the Barrie Colts (a junior team) in the 11th round of the 2008 Ontario Hockey League Priority Selection (i.e draft). He also boxed during the summers. Rutckyj gave up hockey in high school and focused on baseball, transitioning from the outfield to the mound as a sophomore. He worked with the Canadian junior national team as well as a private pitching coach leading up the draft.
Baseball America ranked Rutckyj as the second best Canadian prospect and 193rd best prospect overall for the 2010 draft this spring, though rumors of a first round bonus demand scored teams away. Rutckyj slipped to the 16th round of the draft, when the Yankees happily grabbed him 505th overall. After two months of negotiations with Rutckyj and advisor Dan Lawson, the two sides agreed to a contract that included a $500,000 signing bonus and a $155,000 education package.
Pro Debut
The Yankees assigned Rutckyj to their rookie level Gulf Coast League affiliate after signing, where he appeared in just one game. He retired all three batters he faced, recording a grounder and two fly balls.
Scouting Report
Big and tall at 6-foot-5 and 213 lbs., the 18-year-old Rutckyj is a power-armed left-hander. His fastball sat 88-91 in the spring and touched 93, though he projects to add some more oomph once he fills out and getting his mechanics cleaned up. Rutckyj's out pitch is a sweepy slider in the low-80's, but he has a long way to go to gain consistency with it. His changeup is borderline non-existent, so there's a lot of work to be done there.
Because he's so big and relatively new to pitching, Rutckyj's delivery can get out of whack rather easily. Professional instruction will go a long way towards helping him develop a consistent motion, which will in turn help his command. Rutckyj is perhaps too in shape; his tightly wound frame doesn't allow for much flexibility. As cliche as it is, he takes a hockey mentality out to the mound with him, so there's no fear.
Here is Rutckyj's draft video plus another clip from the Under Armour All America Showcase.
2011 Outlook
Rutckyj is very raw and inexperienced, so the Yankees will hold in back in Extended Spring Training before assigning him to a short season league when the seasons start in June. I fully expect him to return to the GCL, though Short Season Staten Island isn't completely out of the question.
My Take
I'm a fan. Anytime you grab a big power arm, especially left-handed, that late in the draft, it's a coup. Rutckyj certainly has a lot of work to do and a very long way to go, but the tools are there for success. The ceiling is considerable, but so is the risk. For $500,000, a touch more than Ramiro Pena will earn next season, there's not much more you can ask of the Yankees with their late picks.