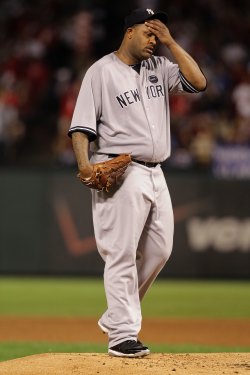 We have definitely heard this before. In August, speaking to the New York Post, CC Sabathia discussed the opt-out clause in his contract. Unlike three prominent opt-out cases — Alex Rodriguez, A.J. Burnett, and J.D. Drew — that came before him, Sabathia said that he's a Yankee, "hundred percent.
I think you know I've built a house here, right? My kids go to school here. We live here year round. So I'm not going anywhere.
Situations can always change, and we could certainly see that with Sabathia. This winter another left-handed ace, Cliff Lee, figures to get six, or maybe even seven, years at a similar average annual value to Sabathia. Why, then, wouldn't Sabathia use that leverage to turn what is essentially a four-year, $92 million player option into another seven-year deal?
According to the Post, Lee's situation will not influence Sabathia. "It has no effect on me at all," he said. Unfortunately, that is the only quote that the Post article provides. Apparently Sabathia's stance hasn't changed since the summer. We can refer back to the above quote for Sabathia's stance on the matter.
Still, I can't help but notice a glaring omission. Never has Sabathia said the words "I will not opt out of my contract." He has just talked about how he's sticking around. I don't think this means he's seriously considering an opt out, but I do think that he's not prepared to surrender all of his leverage by saying, in no uncertain terms, that he will decline to exercise the clause. It's hard to fault him for that.
The lesson, as always: don't trust Post headlines. In this case it was, "Sabathia won't opt out," but he didn't say that. He just said it has no effect on him, which references a previous statement, which also didn't explicitly mention the opt-out clause. I don't think he will, but it's definitely a stretch to take Sabathia's words and say that he won't.