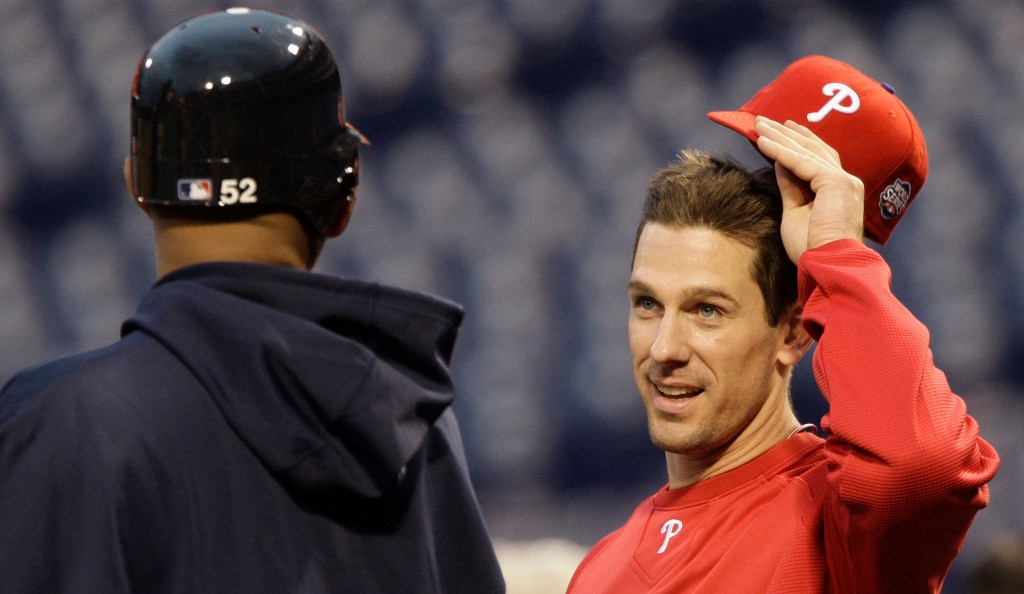 Stop me if you've heard this before.
One of the game's preeminent left-handed starters is a free agent, and he's very much on the Yanks' radar. In fact, it's been an open secret for nearly a year that the Yankees have wanted to pursue this pitcher once he hits the open market, but there are fears that another team could step in. Rumors are that he enjoys playing close to home. Rumors are that if his home town team gives him the right contract, he'd gladly take it over a similar offer from the Yankees. Rumors are he wants more years than the Yanks want to give him, and that could be the so-called dealbreaker.
It's beginning to sound a lot like CC, isn't it? Clifton Phifer Lee and Carsten Charles Sabathia have been good friends since their days on the Indians. While the two didn't come up together, they were teammates from 2002 until 2008, and if Brian Cashman and the Yankees have their way, the two lefties will again don the same uniforms.
The similarities in their free agent storylines are uncannily similar, and that's no coincidence. In each case, the Yanks made it known that they wanted the pitcher in question, and in each case, the player's side is playing it coy. Ultimately, it will come down to the dollars. If the Yankees overwhelm every other offer, as they have the resources to do, Lee will be in the Bronx come April. The pressure from the Players Union as well as the allure of the dollars is too strong to overcome whatever ties Lee built up over just three months in Texas.
But as the back of my mind is a question about the Lee and Sabathia sagas: Do we want them to end the same way? Do we truly want Lee to sign a six- or possibly seven-year mega-deal for Sabathia bucks?
For starters, a few key years separate Sabathia from Lee. When CC signed with the Yanks, he had just finished his age 27 season. It was the ideal time for him to hit free agency, and he signed a contract that could cover up through and including his age 34 season. Lee, on the other hand, just threw his age 31 season. A six-year deal would lock him up through his age 37 season and a seven-year deal through age 38. In baseball years, that's a significant difference.
In Newsday today, Ken Davidoff opines on the Yanks' choice. It's quite the conundrum, he says:
Common sense tells you that the Yankees, who appear increasingly desperate to sign the lefthander, will be the team to step up to six. In doing so, they'll ensure that Lee turns away the Rangers, for whom he enjoyed playing so much.

And baseball wisdom tells you that the Yankees, by doing so, again would be sacrificing long-term viability for the sake of a short-term gain. It's a practice they've exhibited too often, even since Brian Cashman took full control of the baseball operations after the 2005 season.
On the one hand, the Yanks have been willing to let players go. Hideki Matsui and Johnny Damon were both dispatched from New York amidst fan outcry, but the team didn't suffer without them. On the other hand, though, the Yankees are saddled with A-Rod's monster contract, with A.J. Burnett's right arm, with three or four years of 37-and-counting Derek Jeter at 27-and-counting dollars. The team is paying more and more now to win later without focusing too much on the downside of that strategy.
One day, it'll come back to bite the Yanks. Maybe in 2013 or 2014, we'll suffer through a mediocre year of aging players who must play out the final few years of their careers and mega-contracts. Maybe we'll regret this spending spree. Will another World Series make it all OK? That, said Davidoff, is "tomorrow's problem." Today, we worry about what it will take to land Lee, misgivings and all.