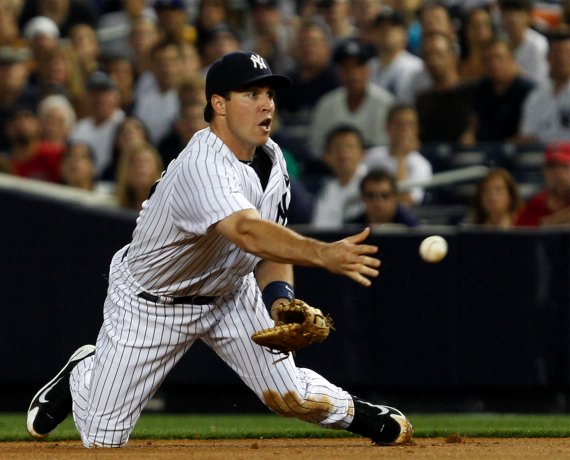 When the Yankees signed Mark Teixeira in December of 2008, it meant two upgrades for the Yankees. The first came on offense, where Teixeira's bat would represent an improvement over the aging Jason Giambi. In his final two Yankees seasons Giambi's numbers dropped a bit, and he came to bat only 868 times in those two seasons. Teixeira would bring not only a superior bat, but also durability. But the most significant upgrade came on defense. Giambi was known as a statue before he even signed his $120 million contract. Teixeira was considered one of the game's premier defensive first basemen. I can't count the number of times I said, "I sure is nice to have a real first baseman" in 2009.
Defensive metrics did not agree with what Teixeira's reputation, and what our eyes, told us. In 2009 Teixeira produced a 0.9 UZR, which ranked him 12th in the majors. That might not have been as ridiculous sounding had Miguel Cabrera not finished with a 3.5 UZR, fifth in the majors. Much as our eyes can deceive us, I don't think that they deceive us to the level it would require for Cabrera to be a better defensive first baseman than Teixeira. After the 2009 season I recall a lot of ill feelings towards UZR, because of Teixeira's situation specifically. The stats did not match what our eyes told us, and so we blamed the stats.
In 2010 UZR ranked Teixeira a bit worse. He finished with a -2.9 UZR, 14th in the majors. There might have been a number of good defensive first basemen ahead of him, but it's doubtful that he finished more than a win worse than, for instance, Ike Davis. Maybe Teixeira isn't the league's best defensive first basemen, but after watching him for over 150 games in each of the last two years, and watching him frequently enough during his pre-Yankees seasons, I'm fairly confident that he ranks in the top five.
While UZR is still a widely used defensive metric, it does contain flaws. Almost all defensive metrics will, since we're still figuring out how to best quantify defense. Perhaps the most aggressive in the pursuit of fielding knowledge is Baseball Prospectus's Colin Wyers. He has spearheaded BP's effort to create a more effective defensive stat, and after reading a number of his columns on the topic I see his point. With observation stats such as UZR and DRS there can exist significant range bias. Total Zone, the fielding stat used on Baseball Reference, takes the observation out and instead uses the play-by-play logs to determine defensive value. It's here that Teixeira excels.
FanGraphs just added Total Zone (with location) data for the 2010 season, so we can see where he ranks compared to his peers. Surprisingly to UZR, but unsurprisingly to Yankees fans, Teixeira finished with a 13 TZL, which ranks him second in the majors. The only first baseman to finish better was Daric Barton, and we know he's a top-notch first baseman. In 2009 he had a 10.1 TZL, which ranked fifth. But instead of sitting behind Miguel Cabrera (-4.4), he was behind only Albert Pujols, Adrian Gonzalez, Todd Helton, and Lyle Overbay. That's a list a bit easier to accept.
This isn't necessarily an indictment of UZR. After all, the correlation between UZR and TZL in 2010 was .75, so they're pretty close to one another. What it makes me wonder more than anything is why UZR views Tex so differently. Barton, for instance, led the league in both TZL and UZR. Of the players with worse than -1 UZR, all but two — Tex and Todd Helton — also had a negative TZL. What about Tex's game causes UZR to rate him so poorly relative to what we see? I don't have an answer, but I do hope that this sheds a little light on current defensive metrics. Maybe UZR isn't flawed for everyone. Maybe its biases affect different players in different ways.