The following post was written by weekend writer Brock Cohen.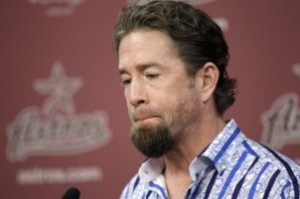 The sports blogosphere was flooded with angry demands for a revamped Hall of Fame voting system on Saturday after it was reported by Newsday.com that scores of members of the Baseball Writers Association of America had denied Houston Astros great Jeff Bagwell the requisite votes needed for entry due to, as one reporter put it, the former slugger's "smoking white hotness."
"Not that I'm gay or anything," wrote Adam Roberts of the Star-Ledger, in a mid-day online chat, "but in his playing days, that guy was jacked up, shredded to bejesus, and way too hot to not be taking something. Again, not that I'm gay. But, seriously, you could practically feel the heat from the press box."
Roberts was not alone. The results of a Sunday morning Google search revealed that, "Not that I'm gay or anything" to be the phrase most commonly used by baseball writers attempting to justify their omission of Bagwell based on his impressive physique.
Said former Astros beat writer Pete Scales of the Houston Chronicle, "There's absolutely no way a guy with a body like that who played in the steroid era was clean. And even if he was, this isn't the Hall of Bodybuilding were talking about, and it's not the Hall of Smoking White Hotness – it's the Hall of Baseball."
In a prepared statement, Roberts later admitted to completely omitting Bagwell from his ballot in favor of, among others, B.J. Surhoff. "Now there was a ballplayer," he said, referring to the former Milwaukee Brewers and Baltimore Orioles catcher. When asked about the portion of Surhoff's final stat line that deemed him worthy over other eligible candidates like Bagwell, Barry Larkin, and Tim Raines, Roberts replied, "Stats? I throw all stats out the window when it comes to measuring someone's greatness. Games aren't won on calculators or spreadsheets. What set B.J. apart were all the little things he did that unfortunately didn't show up on the stat sheet.
He then added hastily, "Aside from him being the consummate gamer, people forget the way in which B.J. could light up a clubhouse with that million-dollar smile of his. If that isn't worth ten extra wins a season, nothing is."
When pressed by a reporter of the difficulty in measuring the impact of a player's personality on a team, Roberts shot back. "I realize this is probably going to ruffle a lot of feathers for all you new-age amateur mathematicians out there, but there are far better ways to measure a player's greatness than by using statistics. You ever hear of heart? Guts? Baseball I.Q.? B.J. had 'em all in spades. Him and Ron Karkovice. Plus, he looks like just a normal guy, a guy who won't snatch away your Meister Brau and try and replace it with Muscle Milk – or steroids."
Other sportswriters have echoed Roberts' line of thinking in recent days.
When confronted by ESPN radio host Dari Nowkhah Saturday morning as to what he did with his allotted ten votes, Dale Simmons of the St. Louis Post-Dispatch conceded to voting for former New York Mets reliever John Franco, "and then for Doug Dascenzo with my other nine." Simmons explained that voting for the former light-hitting Chicago Cubs outfielder, who has never been included on a Hall of Fame ballot, was a "no-brainer" as well as a "protest of everything that's wrong with baseball and society."
Said Simmons, "Guys like Jeff Bagwell and that Bonds had it easy. They were born with natural talent and then took all those pills and shots to puff up their bodies into oblivion. But no one – and I mean no one – played the game like Doug Dascenzo. Maybe Pat Listach. When you talk about Double-D, you're talking about a real ballplayer. The kid had all the tools: Running, hustle, sliding, diving, diving into fences – the works.
When it was pointed out that Bagwell stole more bases in a two-year span than Dascenzo's entire career total, Simmons replied, "All right already with your stupid stats! Why don't you go plot some graphs or something?"
Bagwell, whose career OPS of .948 ranks him 21st all-time, conceded with his usual aplomb that he may have been snubbed due to his impressive physique in an era when all muscular players are now deemed guilty by suspicion. "Honestly, I can sort of see where they're coming from," said a wistful Bagwell from his home in a Houston. "I guess in retrospect I shouldn't have ordered both the Ab Rocket and the Solo Flex." Bagwell's eyes grew misty. "God knows the monster I would've become had the Shake Weight been around."
The office of Commissioner Bud Selig issued a statement late Saturday afternoon praising baseball writers "who continue to boldly serve as the moral gatekeepers for the national pastime."
Jan Spillman, a spokesperson for the league office, added that Major League Baseball is currently piloting Operation Spartacus Blood and Sand, a digitized computer simulation that will superimpose scant articles of clothing, such as lycra half-shirts daisy dukes jean shorts, and loin cloths, over future Hall of Fame candidates during their playing days in an effort to weed out PED-using culprits.
"Bottom line," said Spillman, "any full-grown man wearing a skin-tight, fishnet tanktop who still somehow looks hot is taking something illegal."