My liking for Ivan Nova goes far beyond the rational. If this were 1988, I'd have his Donruss rookie card in a plastic sleeve, his customizable name-and-number T-shirt crammed inside my dresser, and his Sports Illustrated poster hanging on my wall, right beside a dog-eared mosaic of 80's pseudo-stars like Xavier McDaniel, Yannick Noah, and Tim Witherspoon. (Like a bad hedge fund manager, I had a childhood propensity for balancing my irrational fondness for mediocrities such as Pearl Washington with obscurities like Jo Jo Townsell.)
For better or worse, most Yankees fans have a segment of their DNA strand dedicated to an appetite for shiny, pretty things that go really, really fast. It's a big reason why the Yankee blogosphere exploded with jubilation when Joba Chamberlain burst on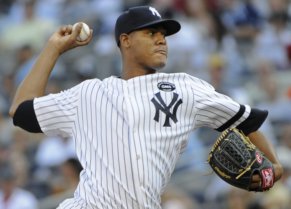 the scene in 2007 with a 100 MPH heater and a 12.8 K/9, only to have a collective meltdown when he "lost" his fastball as a starter in '09. It's also why Ian Kennedy, his 89 MPH two-seamer, and his smirky smarminess were derided and dismissed more than they should have been.
For me, Ivan Nova and his mid-90s fastball feeds this innate desire nicely. That he's homegrown and under-hyped only adds to the appeal. Plus, with his 6'4" power pitcher's frame, the guy looks like a workhorse – something the Yankees desperately need going forward. (Granted, when it comes to pitchers, body type is often overrated: In their primes, Mike Mussina and Pedro Martinez looked more like skinny jeans hipsters from a Belle and Sebastian concert than top-of-the-rotation big league stalwarts.)
As I anxiously await the availability of the first wave of Ivan Nova bobbleheads and replica home jerseys to stream across the Atlantic, the only thing I currently possess that signifies my disproportional faith in him as a successful big league starter is faith itself. Getting others to believe is a different story. Since he's never been an elite prospect, actual first-party scouting reports on Nova are scarce; those that do exist, project his ceiling as a fourth or fifth starter. Moreover, despite an overall solid rookie stint in the Bronx last summer, most trusted statistical projections systems despise Nova and all he stands for. CAIRO, for example, predicts a 2011 ERA of 5.24, a FIP of 5.03 and what essentially amounts to a replacement-level WAR (0.3) – on top of a diminished ground ball percentage (46.7). Which means that Ivan Nova is slated to get an A+ in terrible.
Such ominous forecasting would normally tripwire my denial alarms and prompt a full-scale treatise on irrationally pervasive Yankee hate. But CAIRO also predicts only 83 innings from the big righty, which perhaps indicates their presumption of a mid-season rotation acquisition more so than a Nova collapse. With that said, a 0.3 WAR? Even if he's bad, he almost certainly won't be Jeff Suppan bad.
Still, the more rational side of me understands the Nova pessimism. Touting a litany of eye-popping minor league and small-sample big league stats would be tough going at this point: Without question, some of Nova's peripherals reveal trends that could be reason for concern. But here I go anyway.
First, the bad.
Nova's career minor league WHIP of 1.370, for example, is downright frightening. Farnsworth frightening. Except that the Kyle has "proven" that he can "pitch" to a 1.389 WHIP through 11 seasons at the big league level, whereas Nova was losing the plate against the likes of Gus Milner and Tuffy Gosewisch.
Not that walking everyone in the park as a rangy 21-year-old is the end of the world. Many tall, young power pitchers in-the-making struggle with both their control and command early on. And while some of Nova's minor league peripherals don't exactly scream Baseball America cover model, they're actually pretty solid – especially if we account for a learning curve leading up to his 2010 season at Scranton. For example, while Nova still gave up too many hits at SWB in 2010 (8.4 H/9), his 0.6 HR/9 through 145 IP placed him seventh among pitchers with more than 100 IP. He also significantly improved upon his control there, pitching to a 1.262 WHIP.
Most of these trends carried over into Nova's abbreviated 2010 stint in the Bronx. While his hits-per-innings increased only slightly, both his WHIP and K/9 suffered considerably. Obviously, a hit in performance can be expected when jumping from AAA to the majors. But could it also be that a significant portion of the drop-off was due to fatigue? Consider that, when totaling his minor and major league innings, Nova pitched 27 innings beyond his previous high in 2010. Acknowledging that many of his big league innings were thrown in the high-leverage heat of an AL East pennant race, and we have to allow for the possibility that fatigue was a very real factor in contributing to his late-season lag. In fact, in his last four major league starts of 2010, he totaled only 17.1 innings with 9 Ks and 13 earned runs. Contrast that with his previous four outings, in which the big righty totaled 21.2 innings with 16 Ks and 8 earned runs. Small samples, for sure – but something to consider.
So what does this mean for the 2011 rotation and Ivan Nova's career as a starter going forward? For one thing, most signs indicate that he's not headed for greatness. But as a fourth starter, he doesn't need to be. In fact, earlier this week, Paul Swyden over at Fangraphs cogently illustrated how Ivan Nova could actually prove to be an upgrade over past Yankees fifth starter immortals like Sidney Ponson and Darrell Rasner. Not only do I agree with Swyden's thesis, but when compared to fourth starters on some other contending AL clubs, Nova can more than hold his own. Consider the following number fours from the past five World Series champions: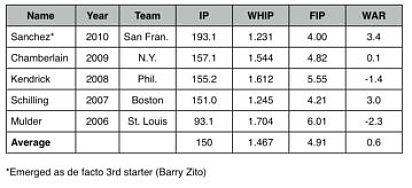 Jonathan Sanchez's unforeseen emergence notwithstanding, these are not seasons for the ages. As you can see, all Nova has to be in 2011 is slightly better than bad. So the question isn't whether or not he can develop into Chien-Ming Wang, circa 2006, but if someone with Nova's talent and skill set can hold his own as a fourth starter on a championship-caliber ballclub. If I had one, I'd bet my bobblehead on it.