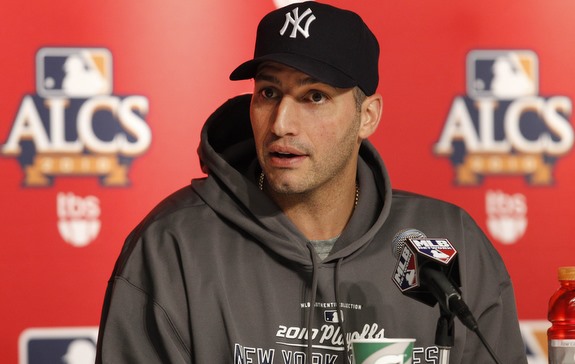 Update (9:27 p.m.): By now, this news can hardly come as a shock. We've heard for weeks that Andy Pettitte hadn't yet ramped up his pre-season workout routines and that he wasn't close to coming to a decision on his immediate baseball future. He told the Yanks not to count on him, today, Brian Cashman confirmed that the Yanks are not counting on him this season in the Bronx.
"I don't think he's determined if he's officially finished or not, but he's chosen at this stage at least not to start in 2011," the Yanks' GM said today at the owners' meetings in Arizona. "If that ever changes he'll call us. We're not going to hound him or bother him."
He later clarified his comments. As Tyler Kepner reported, Cashman said he meant to say that Pettitte has chosen "not to pitch" at all in 2011. It's unclear if Andy is officially retired, but he is right now "not in play."
As the Daily News reported, Pettitte made the decision to skip the season in order to be with his family. "Andy's been very communicative on these issues and right now he's not in play, and if he does decide to play he'll play for us. He's a Yankee from start to finish," he said. "These are personal decisions and they're based on him wanting to be home and every year it's been something tugging at him, and it's been tugging at him even more, and that's understandable, and so right now he's not someone we can focus on."
So the Yankees will have to look elsewhere for pitching help. They're kicking the tires on Justin Duchscherer, for one, and may take a low-risk flyer on Freddy Garcia. But if the team's pitching sags in the early going, Cashman, who's definitely challenging Pettitte a bit here, may just rethink his stance on hounding his long-time lefty.