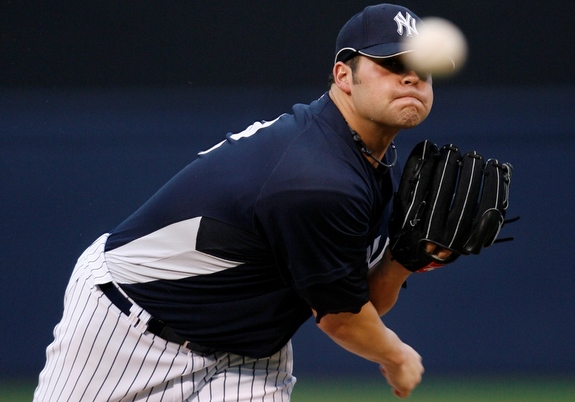 Earlier today we took a sabermetric approach to determining Joba Chamberlain's trade value, and we came up with $11M or roughly two wins. Now we're going to take a more practical approach and compare the current version of Joba to some similar relievers, then look at what they brought back when they were traded.
Joba's career performance as a reliever is pretty damn good. We're talking about excellent strikeout (10.7 K/9), walk (2.7 uIBB/9), and homerun (0.55 HR/9) rates in 131.2 IP, but if we remove 2007 so the numbers aren't skewed, we still get 10.3 K/9, 2.76 uIBB/9, and 0.59 HR/9. That's still pretty damn good. Young pitchers who perform like that usually don't get traded, so the number of comparable players is somewhat limited. Let's dive in…
Joel Hanrahan
This one isn't perfect because Hanrahan was traded mid-year, but like Joba now his stock was at an all-time low. He had a stellar strikeout rate (9.17 K/9), but the walk (4.66 uIBB/9) and homerun (1.13 HR/9) rates weren't even close. To make things more complicated, he was packaged with Lastings Milledge. The trade brought Nyjer Morgan and Sean Burnett to the Nationals, so if we cut that in half we can say he fetched a young-ish big leaguer struggling to establish himself. That doesn't sound enticing at all.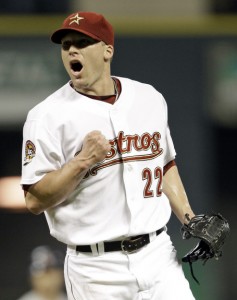 Matt Lindstrom
Lindstrom's actually been traded twice, but his first move last offseason works best because he had the same amount of service time Joba has now. Although his strikeout (7.5 K/9) and walk (3.20 uIBB/9) rates weren't as strong as Joba's, he did have the "proven closer" tag, which counts for something. In exchange for Lindstrom the Marlins received two low-level minor leaguers (that did not figure into their top 30 prospects according to Baseball America) plus a player to be named later that turned out to be Houston's Rule 5 Draft pick. Two organizational players and what ended up being a Quad-A infielder. Yuck.
Tony Pena
Not the Yankee bench coach, the current White Sox reliever by the same name. At the time of the trade, he had almost the exact same amount of service time as Joba does now, and he brought back first base prospect Brandon Allen. Allen was a legit top ten prospect in any farm system, a power hitting first baseman that posted no less than a .390 wOBA as he rose from A-ball to Triple-A in the three seasons prior to the trade. Pena's numbers (6.55 K/9, 2.34 uIBB/9, 0.89 HR/9) weren't even in the same realm as Joba's though.
Ramon Ramirez
The former Yankee farmhand has been traded quite a few times, once with four years of team control left and once with two-and-a-half years of control left. The first time around he was dealt straight up for Coco Crisp, an average everyday big leaguer with one year left on his contract. The second time he fetched current Yankee farmhand Daniel Turpen, who was not a top 30 prospect. Ramirez's performance (8.38 K/9, 3.05 uIBB/9, 0.52 HR/9) at the time of the first trade wasn't all that far off from Joba's.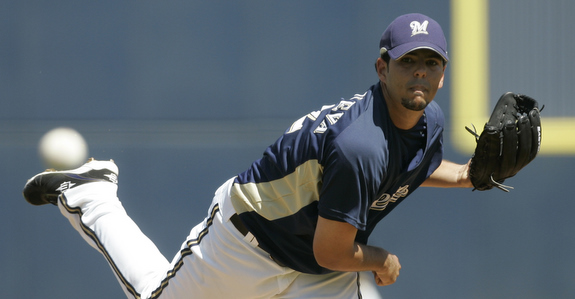 Carlos Villanueva
We're a year off here since Villanueva was traded with two years of team control left rather than three, but it'll have to do. He did the starter/reliever thing early in his career like Joba, and his peripheral stats were pretty dang good (8.07 K/9, 2.90 uIBB/9) aside from the homers (1.31 HR/9). The Brewers gave Villanueva away for a player to be named later, and we have yet to learn the identity of said player. That doesn't help us, now does it?
* * *
It's a bit of a mixed bag, and unless the PTBNL in the Villaneuva deal turns out to be some hotshot prospect, Crisp and Allen represent the best of the lot. We don't need to be all that precise, we're just trying to get an approximation of Chamberlain's real life trade value. As we can see, it isn't all that high. If the absolute best case scenario is a top ten prospect, then you know what? I'd rather just see the Yankees keep Joba. If he stays healthy and maintains his 2009 peripherals going forward, he'll be a nice piece towards the back of the bullpen.