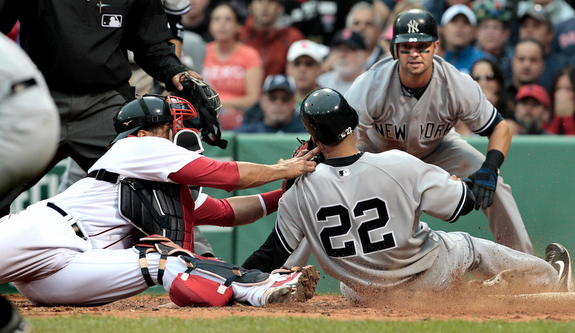 Earlier this week the Yankees did the expected and brought their entire coaching staff – sans Dave Eiland – back for the 2010 season. Third base coach Robbie Thomson was obviously included in that mix. I don't think there's anything more disappointing or frustrating in baseball than a runner being thrown out at home, so I wanted to evaluate how the Yankees, and Thomson by association, fared in this department last season. With a hat tip to R.J. Anderson for some procedural assistance, I did just that.
There are really just two situations in which a third base coach sends a runner: when there's a single with a man on second and when there's a double with a man on first. Now that's just a general statement because not all singles are created equally (a runner's not going to score, or even necessarily advance from second on an infield single) and the same is true of doubles (umpires can allow a runner to score from first on a ground rule double at their discretion, but we rarely see it happen). All I did for this post was look at these situations to see how many times a runner was sent and how many times he scored.
Before we get into the data, there's two important things to mention. First of all, I eliminated plays with errors. So if a runner scored because the outfielder made a bad throw or bobbling the ball, I just ignored the play and treated it as if it never happened. Secondly, remember that there can be other runners on base as well. If there's a runner on second when there's a single, there can also be a runner on first and/or third at the same time, but we don't care about those guys. Our attention is paid just to that guy on second. Same deal when there's a a double hit with a man on first, we don't care what the other two potential runners ahead of him do. Now that that's over with, here's the stats…
Update: Typo in the tables, it says double with a man on third. That should be first, obviously. The data is correct however.

Okay great, now what? For this to tell us anything meaningful, we need context, so here's the same data for the other 29 teams in the league…

At first glance we see that last year, the Yankees were below average at scoring from second on a single when the runner was sent, but above average when scoring from first on a double, again when the runner was sent. That "when the runner is sent" part is important, because we're only looking at instances when the runner actually tries to score. Poor old Jorge Posada is barely able to go from first to third on most doubles, but we're not going to hold that against the team here.
Even though the team was below average at scoring from second on a single, we have to remember that we're dealing with a pretty small sample of data. If one of those seven runners is called safe instead of out, their success rate in those situations climbs to 94.5%, which for all intents and purposes is league average. When it comes to rounding third and scoring, the Yankees are basically average once again. The 0.6% difference overall (both situations) is nothing, it's not worth getting upset over. League average isn't sexy, but the Yankees aren't a team that needs every last runner to score to be successful.  I have a feeling that if  I went back and looked at the data for former third base coach Bobby Meacham, it would be a lot more interesting. That's another post for another time.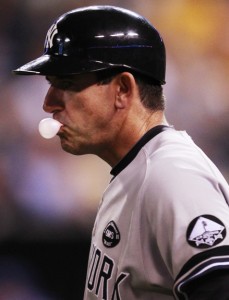 One thing I have to mention is that the the title of this post really isn't fair, because sending a runner home in these spots isn't entirely up to him Thomson. Sure, he puts up the stop sign or waves guys in, but how often do we see a player run through the stop sign? It happens quite a bit, but it isn't accounted for in this data. Another thing to remember is that the umpires have a say as well. They botch calls at the plate, and that will skew the numbers as well. I'm sure that stuff evens out over a 162 game season, so it's not a huge concern.
Objectively, I think Thomson does a fine job. A runner getting thrown out at home doesn't automatically equal a bad send, because a lot of times it takes a perfect relay throw and tag by the defense. I guess there's two ways to look at it: you don't want the Yanks to take unnecessary risks because their lineup is so strong, so being a little conservative at third isn't the end of the world. The other side of the coin is that because the Yanks have such a good lineup, they can afford to take more chances since they'll get more opportunities to score later. We really have to look at this stuff on a case-by case basis, but this data tells us that the Yankees are doing just fine here. I'd be more concerned if they were well below average that I would be excited if they were well above.
Aside: I also took a quick glance at sacrifice flies when there was a runner at third at well, and the Yankees were a perfect 44-for-44 in that department. The third base coach doesn't have much, if any, say in those situations though because it happens so quickly, which is why I didn't bother to include it in the data.