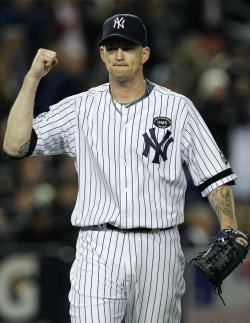 Something got lost amid A.J. Burnett's struggles in 2010. Had he pitched effectively, I feel as though it would have gotten a lot more play this off-season. For the third straight season, Burnett started more than 30 games. When the Yankees signed him, most fans had legitimate concerns about his health. Before 2009 he had started 30 games in a season just twice, but during his Yankees tenure he has missed few starts — the only one I can remember is the Sunday start against the Red Sox when he had back spasms. But just because he has taken the mound every five days doesn't mean he his body was ready for the rigors of a 33-start season.
Burnett's injury history left him with fewer innings than a typical pitcher of his age. After the 2007 season, when he turned 30, he had accumulated just 1,155 big league innings. As a counter example, CC Sabathia just pitched his age-29 season and already has 2,127 innings. Burnett, of course, is not a 23-year-old whose innings need monitoring. But his relatively low level of activity before age 30, followed by two straight seasons with 34 and 33 starts, might have affected him physically. That effect might have been amplified in 2009, when Burnett pitched more innings than he had previously in his career.
To cut off questions, no, I am not a doctor. Nor do I believe that what follows fully explains Burnett's struggles. It just seems to me that when Burnett flopped in 2010, the media pointed to his head as the reason. Apparently speaking with a southern drawl and having an arm full of tattoos causes writers to look down on your intelligence — and, taking it a step further, blame said lack of intelligence for your struggles on the mound. Maybe Burnett does have mental issues that clouded his 2010, but I don't think that fully explains it. His struggles could just as easily been physical.
The idea of overworking Burnett came up in the middle of the 2009 season. He was a bit above league average in terms of pitches per inning pitched, which is certainly taxing on the arm. He finished the season with 16.7 pitches per inning, which was a bit above league average rate. Still, that doesn't represent the biggest concern. In 2009, for the first time in his career, Burnett pitched in the playoffs. That added another 27.1 innings and 459 pitches (16.8 per inning) to his total. Moreover, it had led him to exceed his previous pitch and innings pitched totals. I mentioned this when previewing Burnett for 2010, but took the optimistic route:
There are concerns that career highs in innings pitched could adversely affect Burnett and Sabathia. Neither set career highs during the regular season. In fact, both had set that mark in 2008, when Sabathia pitched 253 innings and Burnett pitched 221.1. In 2009 the Yankees had leeway later in the season to give them a rest, and it led to Burnett pitching 14 fewer innings, while Sabathia, not pitching every fourth day in a tight pennant race, managed 23 fewer innings. The playoffs, of course, pushed them both above their career highs. Sabathia threw 36.1 innings in the playoffs for a total of 266.1, 9.2 innings over his career high. Burnett threw 27.1 playoff innings for a total of 234.1, 13 more than his career high.

Put this way, it doesn't appear either pitcher worked much harder than in 2009. In fact, they might have put less stress on their arms. Sabathia's 2008 season started on March 31 and ended on October 2, 186 days. That works out to 6.9 innings every five days. In 2009 he started on April 6 and ended on November 1, 210 days. That works out to just about 6 1/3 innings every five days. Burnett's 2008 season started on April 2 and ended on September 24, 176 days, or just under 6 1/3 innings every five days. In 2009 he started on April 9 and ended on November 2, 208 days, or just under 5 2/3 innings every five days. Both of their workloads, spread over time, were lower in 2009 than in 2008.
One factor I didn't acknowledge was that Burnett and Sabathia both had less rest then normal. This was a bigger factor for Burnett, who, again, had never pitched into October before in his career. Instead of pitching 135 or 165 innings over six months and then resting four and a half months before pitchers and catchers reported, Burnett threw 234 innings over seven months and had just three and a half months until he had to report again. I can imagine that would take a toll on his body, not unlike working out harder than you ever have, and then going back to the gym after a less than customary rest time. That second workout isn't going to feel as strong as the previous one.
Burnett seemingly broke down in June. Through his first 11 starts he had thrown 71.1 innings to a 3.28 ERA. His strikeouts were a bit down, but so were his home runs, perhaps due to an increased ground ball rate. In other words, his peripherals checked out (3.36 FIP). When his ERA shot up by two full runs in June, the easy explanation was pitching coach Dave Eiland's absence. After Eiland returned Burnett had a few good starts, but he still wasn't very effective. From July through the end of the season he pitched 92.1 innings to a 5.26 ERA. And still, even though Eiland had returned, the media still pointed to his head and not to any physical issues.
Maybe this all is in Burnett's head. Maybe he had a major distraction during the season and couldn't keep his focus on the mound. Of this we just can't be sure. But we can be sure that in 2009 Burnett not only experienced an unprecedented workload, but he also had less time to recover. With that in mind, it is just as easy to blame his struggles on a physical issue as it is on his mental state. In fact, it's a bit easier to blame it on a physical issue, since we can measure his workload and recovery.
The good news, then, is that Burnett had plenty more time to rest this year. He threw 192.2 innings and 3,217 pitches last season (16.7 per inning), including the postseason, both of which are reductions from his 2009 workload. He also made only one postseason start, and the Yankees' season ended a few weeks earlier. The hope is that the combination of Burnett's body becoming used to the increased stress, plus the increased recovery time, will make him stronger in 2011. If nothing else, it makes me a bit more confident that he'll recover and again provide the Yankees with quality innings. They need it this year more than ever.