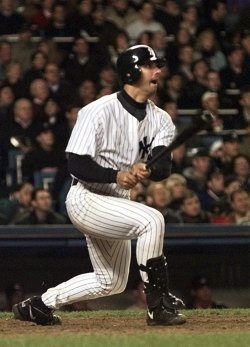 When you think about the best catchers in baseball during a certain period, who comes to mind? I go from Bill Dickey to Yogi to Johnny Bench to Carlton Fisk to Gary Carter to Ivan Rodriguez to Mike Piazza to Jorge Posada to Joe Mauer. I know I've missed a few, but this is the general idea. The one name that might stand out among these is Posada. Here we have listed the greatest catchers of all time — Hall of Famers, the lot of them. How does Posada fit on this list?
I think that Posada's case among the all-time great catchers gets caught up in arbitrary end points. There's one period that begins in the early 90s, when Rodriguez and Piazza came up, where they absolutely dominated. From 1991 through 2003 Piazza produced 62 fWAR and Rodriguez produced 56. The next closest, Jason Kendall, produced 29. Then, from 2004 through 2010 we have the Joe Mauer era. While he doesn't so thoroughly destroy the competition, his WAR is the highest of that period and he has the narrative of catcher dominance.
Where does Jorge fit in? For starters, he's at 26 fWAR from 2004 through 2010, just seven behind Mauer, so his case there is immediately understated. But there was a period when he stood above all of his peers. Now we can see it in a somewhat visual format, as FanGraphs has introduced WAR Grids. Here are the top 25 catchers of the last decade, 2000 through 2009:
This isn't Mauer 2004 through 2010 dominance, though it's not quite Piazza/Rodriguez dominance, either. Stil, Posada put up 10 more fWAR than his closest competitor, and he did it at the same age range. If we add in 2010, to cover Posada's tenure a the Yankees' starting catcher, he's 12 WAR ahead of No. 2. Even if we go back to 1998, the first year Posada played more than 100 games, he's still No. 1.
In a few years, Posada's name will appear on the Hall of Fame ballot. Maybe the process for induction will have changed by then, but I doubt it. That leaves the writers with the responsibility to determine Jorge's case. I'm not saying that WAR alone is grounds for Posada's induction. But I do think that his reign over the league since he became a half-time player, and his sheer dominance in the 00s, makes for a strong foundation. He might get trapped between Piazza/Rodriguez and Mauer, but that doesn't make his career any less impressive.