Word got out last night that the Tigers, with Brad Penny now on board, could look to unload the arbitration-eligible Armando Galarraga. Surely you remember him from the non-perfect game this past summer. We all know that he did in fact throw that perfect game, but the record books will say otherwise because of Jim Joyce's rather infamous blown call on the 27th out. Despite that feat, Galarraga is the odd man out of the rotation because the Tigers have their hearts set on using Phil Coke (Phil Coke!) as a starting pitcher in 2011. I think you all know what's next … should the Yankees have interest in Galarraga?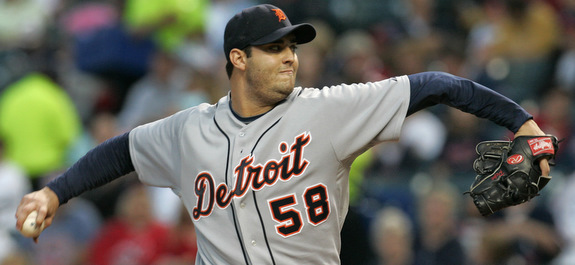 Although he turns just 29 in two days, Galarraga has already earned the journeyman tag. He signed with the Expos out of Venezuela on Halloween day in 1998, then was traded to the Rangers as part of a package for former Yankee Alfonso Soriano seven years later. A little more than two years after that, Texas flipped him to the Tigers for a nondescript minor leaguer. Galarraga made just three appearances with the Rangers (zero with the ExpoNats), but it looked as if Detroit had found itself something useful following his 2008 season. That's the year he posted a 3.73 ERA with a 1.19 WHIP in 178.2 innings.
As fine as that performance was, the underlying red flags were enormous. Galarraga wasn't striking out many batters (6.35 K/9) and he wasn't making up for it with a bunch of ground balls either (43.5%). His walk rate was rock solid (2.97 uIBB/9) and right in line with his minor league walk stats, but he was very prone to the long ball (1.41 HR/9). Opponents hit just .226/.294/.410 (.319 wOBA) off of him thanks to a .247 BABIP, which was the third lowest in the game among pitchers with at least 100 IP that season. Galarraga's 4.88 FIP was far more indicative of what his performance might look like going forward rather than the 3.73 ERA.
Sure enough, Galarraga took a beating in 2009. His ERA climbed nearly two full runs to 5.64 (5.47 FIP) and his strikeout (5.95 K/9), walk (3.45 uIBB/9), ground ball (39.9%), and homer (1.50 HR/9) rates all declined. A correction to a .302 BABIP in 143.2 IP didn't help matters either. Last season was slightly better but no not really. Galarraga's ERA fell to 4.49 (5.09 FIP), but so did his strikeout (just 4.61 K/9 now) and ground ball (37.3%) rates, as well as his BABIP (.268). The walk (3.12 uIBB/9) and homer (1.31 HR/9) were back at 2008 levels, but that only does so much.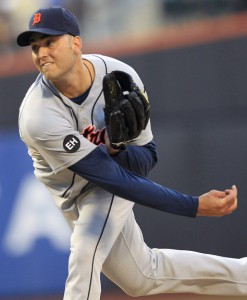 So that leaves us where we are today. Galarraga's a big (6-foot-4) and skinny (180 lbs.) guy that throws mostly two-seamers (35.2% of the time, averaging 90.6 mph) and sliders (33.0%, 86.7 mph), but he also mixes in a straight four-seamer (18.8%, 91 mph) and changeup (12.2%, 84.2 mph) on occasion. His peripheral stats over the last three years are wholly underwhelming: 5.69 K/9 (below average 8.0% swings and misses), 3.37 uIBB/9, 1.41 HR/9, 40.4% grounders, and a 5.13 FIP. The only pitchers with a worse homerun rate than Galarraga's over those last three years are Aaron Harang and Dave Bush, and the only pitchers with a lower BABIP in that time are Tim Hudson and Ted Lilly. Not a good combo. Unsurprisingly, Galarraga also has a massive platoon split for his career (.307 wOBA against vs. RHB, .371 vs. LHB). There's not much to like here.
We don't know how much Galarraga will earn in his first trip through arbitration, but it'll surely be over the $1M mark, possibly even $2M. Since these aren't guaranteed contracts, the Tigers could flat out release him in Spring Training and pay just a portion of his salary, which is exactly what the Yankees did with Chad Gaudin last year. Because that 2011 salary isn't guaranteed, whatever team signs him wouldn't be able to get him for the league minimum with Detroit on the hook for the rest like we're used to seeing. Galarraga would be able to sign with whatever team offers the most money. The other thing Detroit could do is try to send him to the minors. He's out-of-options, so he'd have to pass through waivers to go back to Triple-A, and it's highly unlikely that another team would claim him with a seven-figure salary. Either way, there's not much for the Yankees to see here, unless he'd be willing to take a minor league contract with an invite to Spring Training after a release. There's no harm in that.
Perhaps the more interesting news came from the Central Division of the other league last night. The Cubbies may be open to moving Tom Gorzelanny after their Matt Garza pick up, and I'd have more interest in him than in Galarraga bar none. I wrote about Gorzelanny last month, and although he won't be great, he definitely passes the "better than Sergio Mitre" test, something I'm not sure we can say about Galarraga.