Aside from the whole starting pitching thing, the Yankees don't have many needs left to address this offseason. The Andruw Jones pick up gave them that all important right-handed hitting outfielder, and the bullpen has been shored up and then some. Assuming the team rolls with a seven man bullpen, they'll have four bench spots to play with and three of them are already accounted for. Jones is the fourth outfielder, Frankie Cervelli is the backup catcher, and either Eduardo Nunez or Ramiro Pena will be the reserve infielder. That last spot could do to a number of players already in-house, like Nunez/Pena, Greg Golson, Kevin Russo, Colin Curtis, or even Jordan Parraz.
If the Yankees honestly feel that Nunez can be an everyday big leaguer like they've been saying for the last year, then they should let him play everyday in Triple-A. Sitting on the bench behind that infield all season won't do a damn thing for his development. That should make Pena the default utility infielder. Golson would bring speed and defense, Russo versatility, while neither Curtis or Parraz have a real standout tool. We're talking about the 24th or 25th man on the roster, so whoever fills that last bench spot won't make or break the season. That doesn't mean the Yanks can't improve the position, though.
The free agent market is pretty barren these days, so we're really digging for scraps here. That doesn't mean there aren't a few players that can help the Yankees though, so let's look at two…
Augie Ojeda
Two things stand out about Ojeda: he's a fantastic defensive player with gobs of experience at the three non-first base infield spots, and he's a switch-hitting bat control freak, swinging and missing just 4.9% of the time in his career. Although his 2010 campaign was dreadful (.220 wOBA), a concern at age 34, he posted no worse than a .340 OBP from 2007 through 2009, drawing more walks (73) than strikeouts (65) in 713 plate appearances with the Diamondbacks. Ojeda has like, negative power (career .078 ISO) and little basestealing prowess (just seven steals and a 63.6% success rate in 503 career games), but that's why he's a bench player. Essentially a better version of Pena, Ojeda's going to have to hope some team believes his 2010 performance was a 92 plate appearance fluke and not the sign of age-related decline.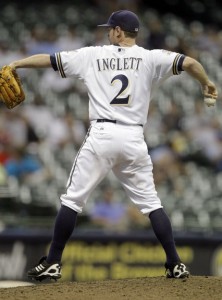 Joe Inglett
Perhaps my standard for bench players is too low, because Inglett strikes me as a pretty useful player despite his continued unemployment. Over the last three years, a span of 644 plate appearances and 247 games played with the Blue Jays and Brewers, Inglett's walked in 7.9% of his trips to the plate, including 9.4% last year. His overall power output is blah (career .111 ISO), but he swings from the left side and is an above average hitter against righties (career .336 wOBA vs. RHP). Add in a little speed (13 steals, 91.3% success rate last few years) and a bunch of versatility (lots of experience at second, third, and the corner outfield spots), and Inglett makes for a half-decent bench piece.
* * *
Let's not forget Willy Aybar and Felipe Lopez, both of whom I've written about this offseason. Since Jones, Cervelli, and Nunez are all right-handed hitters (Pena's a switch-hitter, but the hitter part is being generous), I'm thinking it would be nice to add a lefty batter for no other reason than to have some diversity. All of these guys fit the bill, and I actually like the switch-hitting Aybar the best. He'd give the Yankees some pop from both sides of the plate and a little versatility, plus he's familiar with the AL East. Inglett makes a smidgen of sense in a limited role, Lopez moreso.
Either way, we're talking about the last man on the roster, and the Yankees can afford to splurge a little on that spot. The hard part, as always, will be convincing a free agent bench player to sign with a team featuring the kind of regular lineup the Yankees have.
Note: I originally had Jorge Cantu and Andy LaRoche included in this post, but of course they had to sign with the Padres and Athletics last night, respectively. See anyone on the free agent list worth discussing? Cristian Guzman? Ronnie Belliard? Meh.