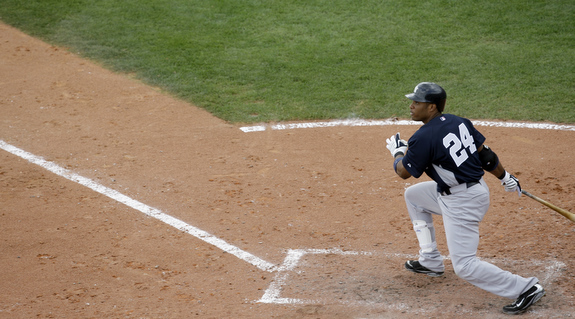 Despite down years from Derek Jeter, Mark Teixeira, and Alex Rodriguez, the Yankees still boasted one of the game's best offenses in 2010. In fact, they led the league in OBP (.350, by nine points), wOBA (.347), and wRC+ (115), leading to an MLB-leading 859 runs scored, so yeah, I guess we should just come out and say they were the best offense in the game in 2010. That's thanks in part to an MVP caliber effort from Robbie Cano, who at age 27 hit .319/.381/.534 with 41 doubles and 29 homers, good for a .389 wOBA and a 145 wRC+.
Cano did all that after the team issued a challenge in Spring Training, giving him a bit more responsibility by moving him to the fifth spot in the order rather than the sixth or seventh he'd been hitting for the last half-decade. No longer was he considered a complementary piece, the Yankees wanted to Cano to step up and become one of their cornerstones. He obviously responded quite well and now maybe it's time to issue another challenge: should he be moved up again?
No, I'm not talking about batting him cleanup or even third, I mean letting him hit second in 2011. Mark Teixeira and/or Alex Rodriguez would not be displaced in this alignment, not that they should have any control over the matter. This of course assumes that Derek Jeter will leadoff, and frankly we have no reason to suspect he won't right now. Just like everything else, there are both pros and cons for moving Cano up to the two-hole, so let's go through them both…
The Case For
Perhaps the biggest reason to move Cano up to second is to simply get him more at-bats. Last year American League number two hitters came to the plate 10,376 times compared to 9,638 times for number five hitters. That's a 7.7% difference, and although it sounds small, it's the difference between getting Cano 600 plate appearances and 646 plate appearances. Yankees' number two hitters received 9.5% more plate appearances than number five hitters in 2010, so the difference is even more substantial on a team-specific level. Robbie's clearly one of the team's best hitters, so you want him to come to the plate as often as possible.
Another reason is to "optimize the lineup," so to speak. Traditionally, the number two hitter is supposed to be someone that can "handle the bat" while number three hitter is supposed to be the best hitter on the team, however The Book showed that the best hitter should actually bat second. The reason is that the number two hitter comes to the plate in situations that are just as important as the number three hitter's, but he does so with greater frequency. Another reason is because the number two hitter tends to bat with the bases empty more often than the three-hole hitter, so he can help start rallies by batting earlier. The Yankees are fortunate enough to have several fantastic hitters, so moving Cano into the two-hole creates more opportunities for Tex and A-Rod to drive in runs. With Brett Gardner (presumably) batting ninth and Jeter first, Robbie will still have a ton of RBI opportunities himself.
A lesser benefit is that it splits up the lefties at the bottom of the order, something Joe Girardi always tries to do. Separating Cano and Curtis Granderson by one batter is one thing, since the opposing team could always have their lefty specialist walk the righty batter sandwiched between them, but with three or four hitters between them it's a different story. Maybe this doesn't matter since Cano traditionally kills lefties (.366 wOBA vs. LHP over the last four years), but anything that makes life more difficult for the opposing manager is okay in my book.
The Case Against
The case against moving Cano up in the order is pretty simple: if it ain't broke, why fix it? He was an MVP candidate while hitting fifth in 2010, so why screw around with it and potentially ruin a good thing? Well, it's a very simplistic view, because Cano was also extremely productive as (primarily) a seventh place hitter in 2009, but moving him up made him even better. Sticking him between Gardner and Jeter on the front end with Tex and Alex behind him could bring about another level production, who knows. If it doesn't work out, moving Robbie back to fifth is as easy as writing a name on a lineup card.
Another thing to consider is protection for A-Rod, but this probably won't be much of an issue. At least not as much as it is made out to be, anyway. The Yankees could simply plug Nick Swisher or Jorge Posada or Granderson into that five-hole and nary miss a beat. Personally I'd go with Swish in that spot, but that's just me. No, they won't produce like Cano did in 2010, but they're not going to embarrass themselves back there.
The double play component can't be ignored either. Cano has grounded into no fewer than 18 double plays in his five full seasons, including 19 last year. Only Miguel Tejada, Albert Pujols, Michael Young, Yadier Molina, Derek Jeter, and Carlos Lee have more GIDP's over the last five years. Hitting second will give Robbie the opportunity to kill just as many rallies as he can extend, which is more than he would be able to as a five-hole hitter.
* * *
The thing to remember is that the batting order really doesn't have as big of an impact as we think it does, unless the manager does something stupid like bat his two worst hitters first and second and his two best eighth and ninth. As I said earlier, the Yankees have enough great hitters than Joe Girardi could pick the batting order out of a hat and still trot out one of the best offenses in the game, so Cano's spot isn't of paramount importance. A little optimization never hurt anyone though, and sliding Robbie up so that's he's starting rallies for Tex and A-Rod instead of cleaning up their leftovers is most likely what's best for the team over the course of 162 games, and I'm for all for it.