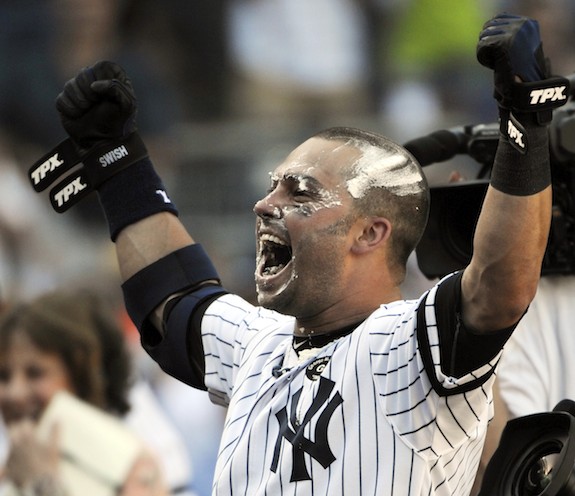 Nick Swisher will be honored next month at the 31st annual Thurman Munson Awards dinner. The Yankee right fielder will receive a Munson Award in recognition for his on-field contributions to the team and his off-field charity work.
The dinner, hosted by AHRC-New York City Foundation, an organization that raises money for children and adults with intellectual and developmental disabilities, will take place on Feb. 1, and Diana Munson, the late Yankee captain's wife, praised Swisher.
"I love the way he plays, I love his enthusiasm," said Diana Munson of Swisher. "Most importantly, he respects the history of baseball and the Yankees. On Old Timers Day, he was out there getting autographs and taking pictures. He's not embarrassed by his love of the game, and respects the players. Plus, he's cute."
Swisher is coming off a season in which he hit .288/.359/.511 with 29 home runs and 89 RBI, and he has become a fan favorite out in right field. Off the field, he leads the Nick Swisher Foundation and its Swish's Wishes program which helps lift the spirits of children suffering through life-threatening illnesses. He has also served as a co-Ambassador to the Entertainment Industry Foundation's Lee Denim Day in their efforts to raise money for breast cancer research. The Munson Award is a well-deserved one for a Yankee who is very giving of his time and energy.